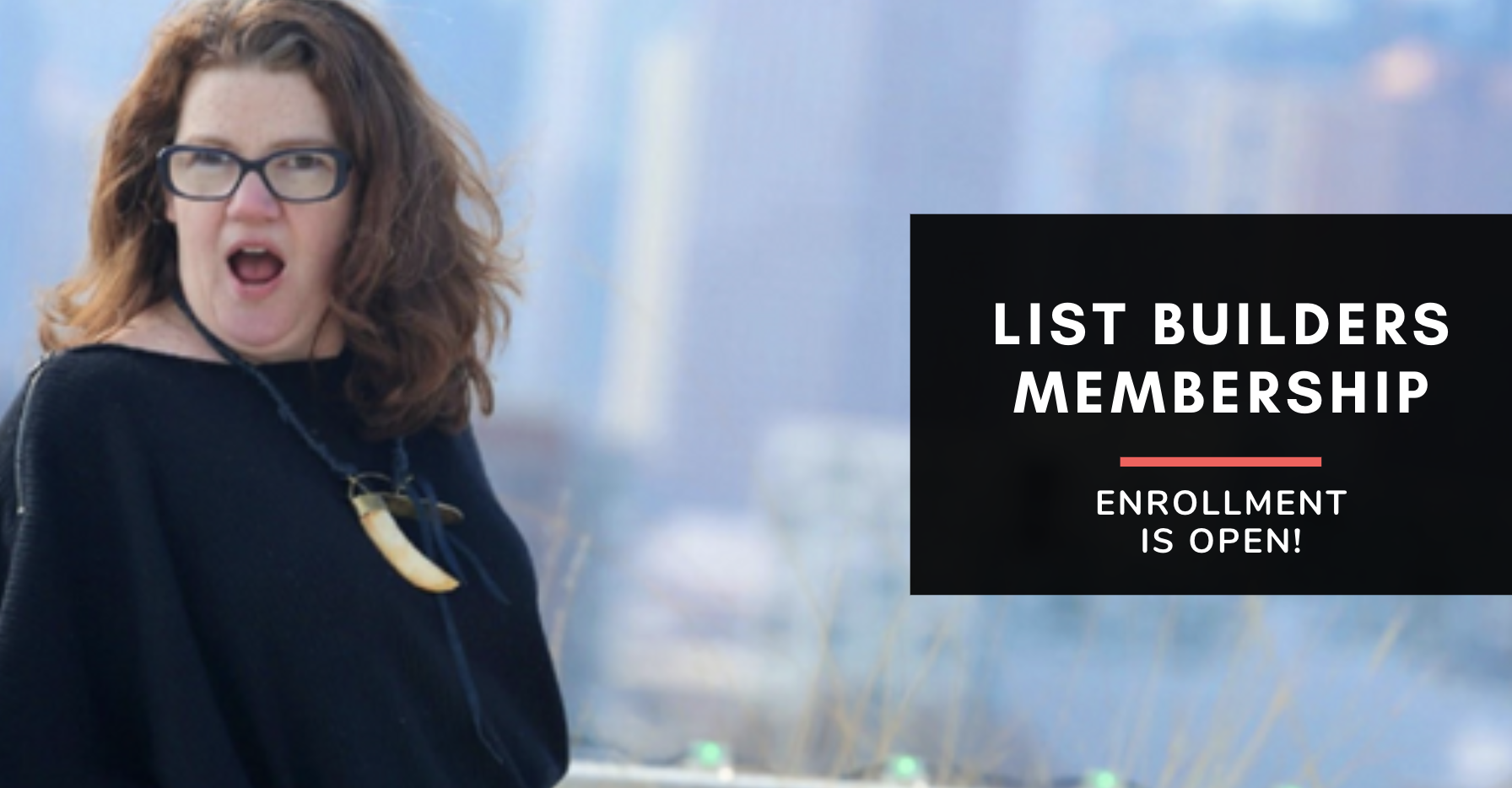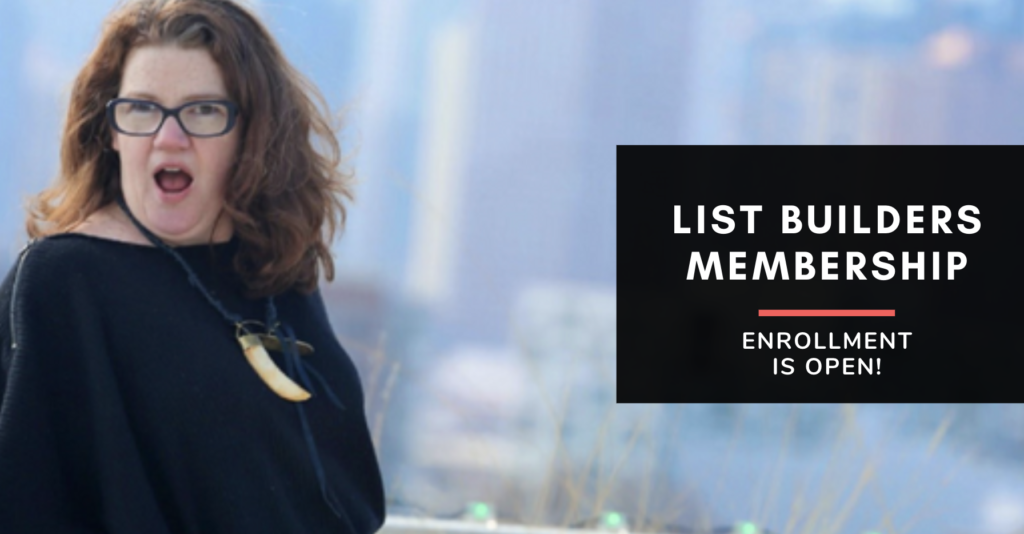 Ready to build your audience, your list, and your sales?
Enrollment is closed.
To get an invitation when we reopen registration,

click below.
List Builders is a monthly group membership for creative entrepreneurs with one main objective: to build a list of happy clients/customers.
This video explains…
There are 4 stages of List Building
Badass Builder Mindset
Audience
List Building
Optimization
STAGE 1: Badass Builder Mindset
We start with your mindset. Getting clear that it's totally possible – and even inevitable – that if you trust the process you can have a large list of highly qualified prospects and customers.
STAGE 2: Audience 
Next, you decide who you MOST want to sell to (yes, you actually get to choose) and attract. In stage 2, you will set up your social media accounts and start creatine content to attract the "right" people.
STAGE 3: List Building
In stage 3, you will create a lead magnet as a "bribe" to trade for your ideal prospect's email and/or phone number. The focus is not just on building a big list, it needs to be an engaged list of people who can and will buy from you happily.
STAGE 4: Optimization
At this stage you have already set up your list and your lead magnet is working well. You are getting consistent sales and your list and customer list is growing steadily. Now it's all about optimizing your email marketing, segmentation, automations, and conversions.
List Builders is a monthly membership, expert advice, and online course all built into one.
For $47/month
What it Takes
There is a lot of confusion about list building — what is a landing page? Do I need a blog? What do I say in my content? Should I use pop-ups on my site to get email addresses? How often should I send emails? We'll answer these questions and more.
What You Will Accomplish as a Member
define your ideal buyer
determine who you MOST want to sell to
craft your compelling marketing message
set up and use an email service provider
create consistent content to attract your ideal buyer
create a lead magnet
set up a landing page
set up automated emails
set up a welcome sequence
How Long Does the Membership Last?
It's a monthly membership and I suggest you commit (in your brain) to 12 months. That said, membership is month to month and there is no contract. You can cancel any time but we do request a 30 day notice.
Who is List Builders For?
Creative entrepreneurs who want to build a bigger list — it doesn't matter what you sell or if it's a service or physical product. It doesn't matter what stage of businesses you're in – including pre-launch when you're building a following before you're even ready to sell.
What You'll Do the First Six Weeks as a Founding Member

The "Build a Following from Scratch 2.0" course is included in your membership. We'll go through this training TOGETHER, week by week. You will also get a "Badass Builders Mindset" training to get your beautiful crazy creative brain prepared for growth and success. Next, we'll start on the tactical things like setting up a Landing Page and a Lead Magnet to grow your list.
The training content is housed in a List Builders membership site with a username and  password. Live office hours and other events will  take place in the private Facebook Group.
What's the Schedule?
Here's an example of what's happening in the next few months.
Each yellow square on the calendar indicates a LIVE event with Jane Hamill in the private Facebook Group.
Everything is recorded so no worries if you don't make it live.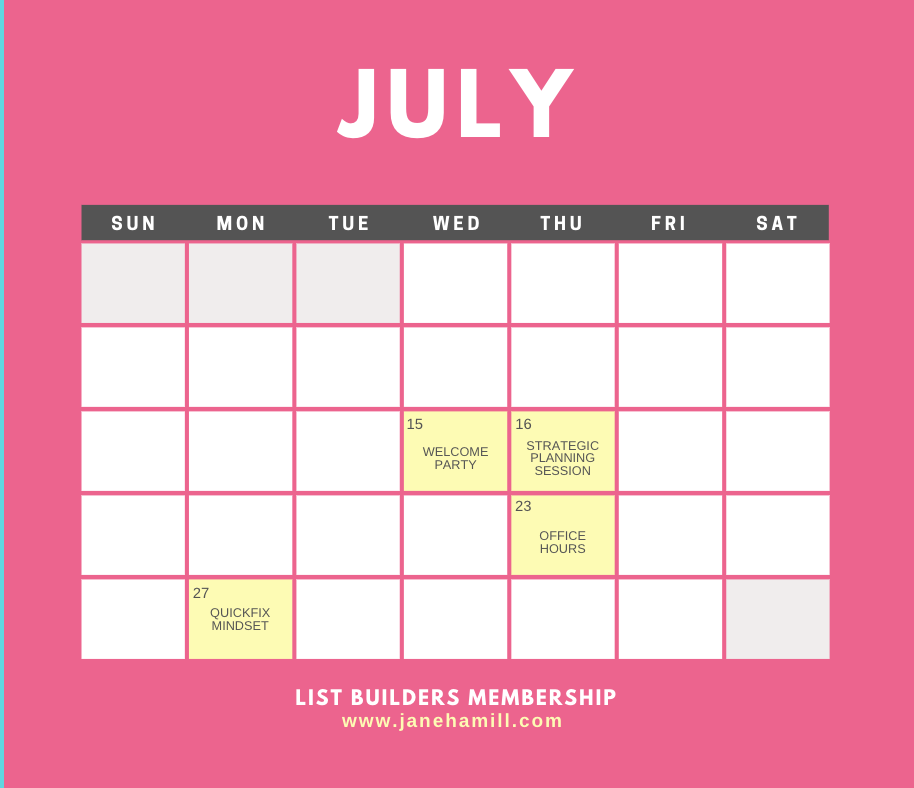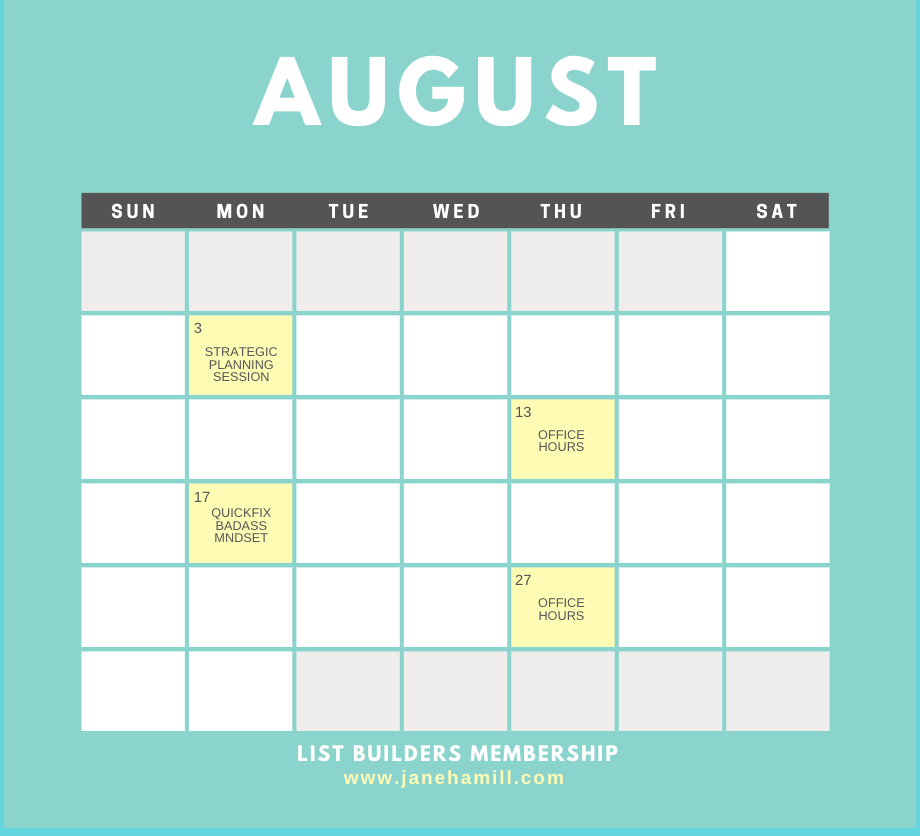 Questions?
Email us at jane@janehamill.com or call 312.715.8301.
Feedback from "Build a Following From Scratch 2.0" students: