We Teach You How to Double Sales from Your Online Store 
Sign up to get on the waitlist:
If You Want More Traffic to Your Site & More Sales, This is For You…
Imagine you never had to worry about where your next sale was coming from? EVER.
What if you had an actual strategy to get traffic, convert that traffic, and sell to them again?
How cool would it be to have an email list of loyal buyers?
It's all totally possible.
"Since joining, I no longer feel like a chicken with my head cut off. I'm a cool, calm, and collected CEO. I look forward to outsourcing even more as my business continues to grow." 
–Sarah Liller
Now's your time to get focused and into action with your marketing so you get consistent, profitable, predictable sales. Business coaching can help you do that.


Hey there! I'm Jane Hamill. In the last 10 years, I've worked with over 1,100 creative business owners – helping them with their marketing and sales.
UPDATE April 2020: I made you a quick video to answer some of the questions I keep getting. There are more FAQs at the bottom of this page.
I've learned that there are 3 things that creative entrepreneurs need to succeed:
Clarity 
Confidence
Consistent Sales
CLARITY on what you want for your business and what direction to take.
The CONFIDENCE to know you have a specific plan for what's what actions steps to take so you're on the right track.
And sales that are CONSISTENT so you can stop feeling overwhelmed, anxious, or frustrated.
Our members have these 3 things in place. They know what do do and when, and they are not alone in doing it.

Every day, I see exactly what's working NOW to sell more products. I know what gets results and what's a waste of time. I can teach you how to get a plan together so you know exactly what to work on next and feel confident doing it.
No more BSOS (bright shiny object syndrome).
Clarity. Confidence. Consistent Sales. That's what it's all about.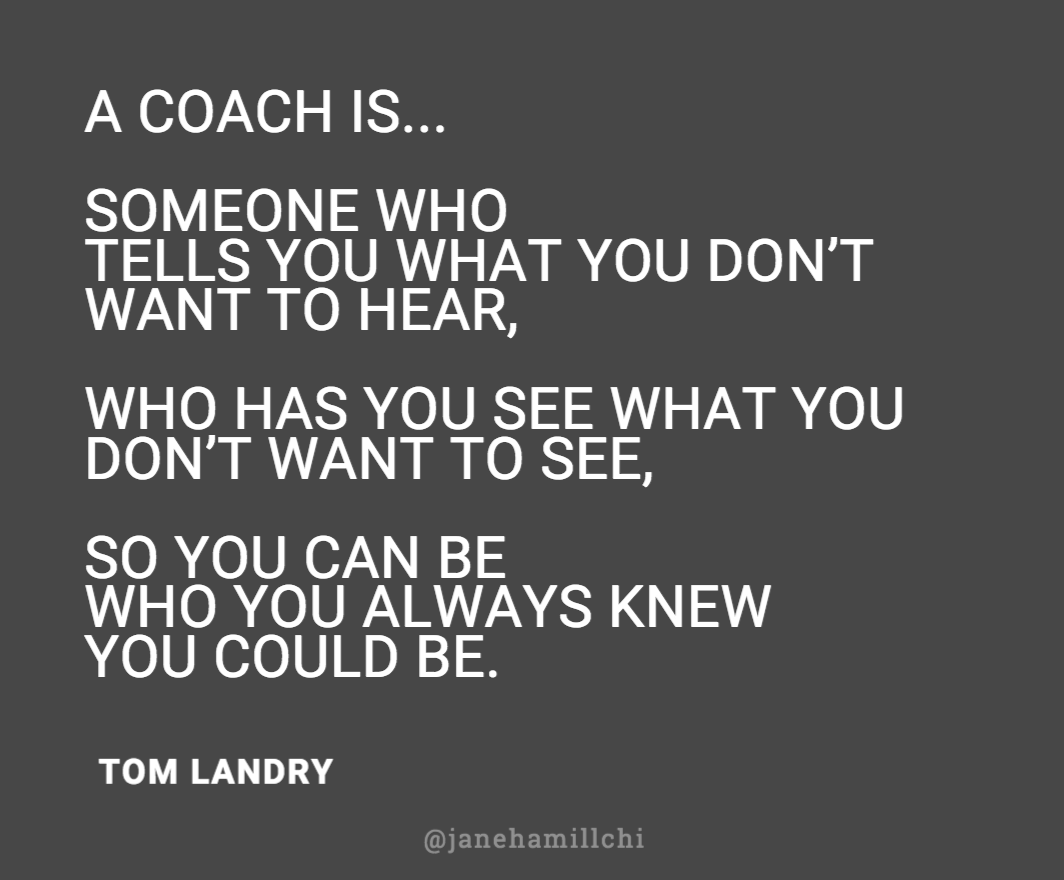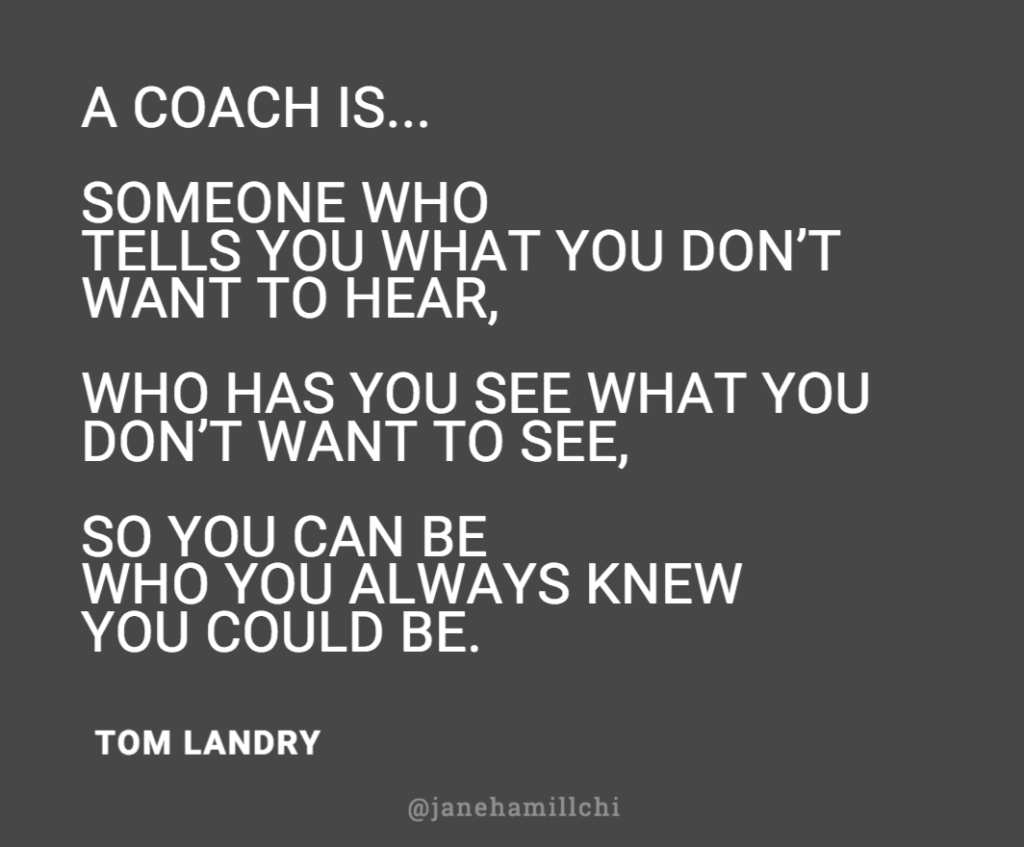 This program will help you:
Feel like you're in control of your business
Stay consistent with your marketing
Stop overthinking decisions
Get an actual PLAN in place to market your products
Have the courage to test things, tweak, and adjust
Make more money without working and harder
Here's the deal…
I'm combining all my years of experience as a retailer, fashion designer, and business coach into one monthly coaching program. 
"Imperfect Action" is not an online course. It's a group coaching experience that gives you monthly training + access to Jane and her team for individualized coaching. You are not alone on this journey to grow a business. We've been there and will be there every step of the way to help you.
After you join, we'll mail you a packet  – yes, in the actual post – to get you started. You'll receive a workbook, study guide, and USB with your QUICKSTART materials (U.S. addresses only). If you're not in the U.S., your access to the same materials will be online.
The Quickstart materials will get you set up for success.
You'll get access to the private members website as soon as you register.
We want to get you into imperfect action every single day so we'll send you something in the mail every single month.
Here's What You're Getting Every Month as a Member:
A group Implementation Workshop to start each month. We'll go through the month's Workbook together, set your monthly goal, and make a plan. (once a month)
"What's Working Now" (WWN) session with Shopify store owner / designer Erika Neumayer. Look over her shoulder as she shows you real-time, behind-the-scenes of her specific marketing activities. (once a month)
Group Hotseat/Coaching sessions LIVE with me, Jane. This includes reviews of your marketing materials, such as emails, sales funnels, website, blog posts, Facebook ads, sales pitches, etc.
Small Group Accountability Check-ins. You have the option to join a weekly check-in group (7 – 9 people only) to set your weekly goals, identify obstacles, and focus on completing THREE specific tasks to move your business forward.
"Ask the Expert" portal where you can post a question any day and receive an answer within 3 business days. (daily access)
A monthly workbook MAILED to you with a specific theme to keep you focused on sales & marketing activities that make you money. (always available online + a packet mailed to you if you have a U.S. address)
Access to the online membership site that houses the training courses you get, the monthly materials, all recordings of live coaching sessions, and our calendar. (daily access)
A private members-only Facebook Group for 24/7 support and accountability. (daily access)
Registration will be open for a short time due to world events, being stuck at home, and the very real need to keep our minds off of everything. 
$250/month

The coaching membership is month to month. You pay $250 when you sign up and your next monthly payment will occur 30 days later. You can cancel your membership with a 30-day notice.


Who this is for:
It's for creative entrepreneurs who want to stay consistent with their marketing and are serious about doubling their sales and building a bigger following, including:
Shopify store owners, boutique owners
fashion designers, jewelry designers, makers
authors, consultants, course creators
Who this is NOT for:
It's not those who don't have a product ready to sell yet. It's not for people in the idea phase. If you're looking for someone to do the marketing for you, this isn't it.
Note: If you want to launch a clothing line from scratch, I suggest my New Designer Program.
Let's Take a Look Inside…
As soon as you join, we mail you a box of QUICKSTART materials to jumpstart your progress. Yep, a physical box with your binder and Quickstart training via snail mail (U.S. addresses only).
At the beginning of each month, we'll also send you the coaching packet and workbook for the month. This includes the dates and times for the LIVE group coaching sessions. All materials are also available online and everything is recorded. For our international members, all materials are available in the private members' area.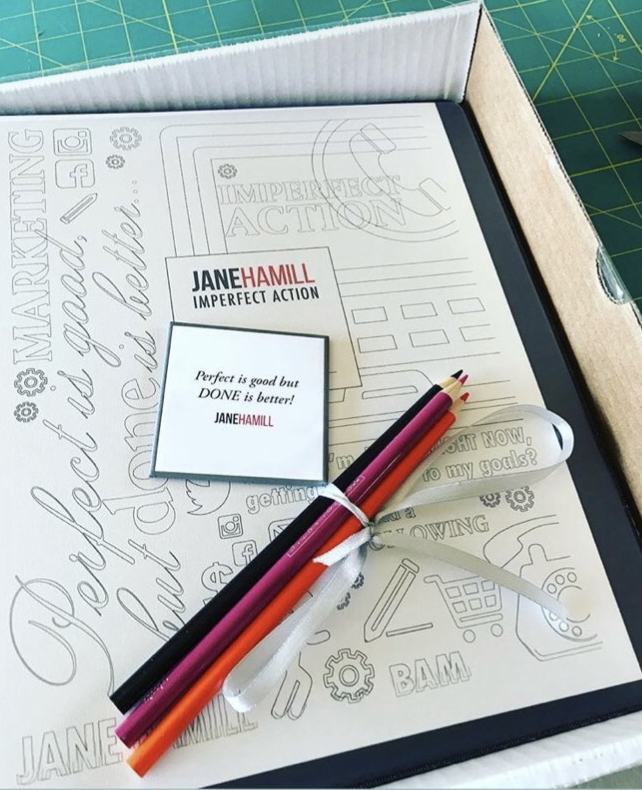 You also get daily access to the "Ask the Expert" portal to ask a questions and receive an answer within 3 business days.
Imperfect Action is geared for small business owners who want consistent sales without so much stress – and they're willing to do what it takes to get a simple, do-able marketing plan in place.
Coaching is month to month and payment is automatic. You can cancel any time with a 30-day notice.
Marketing is like brushing your teeth…you can't just do it on Monday and expect it to last until Friday. A little bit every day is what gets results.
Here's an example of a monthly Imperfect Action Live Session schedule: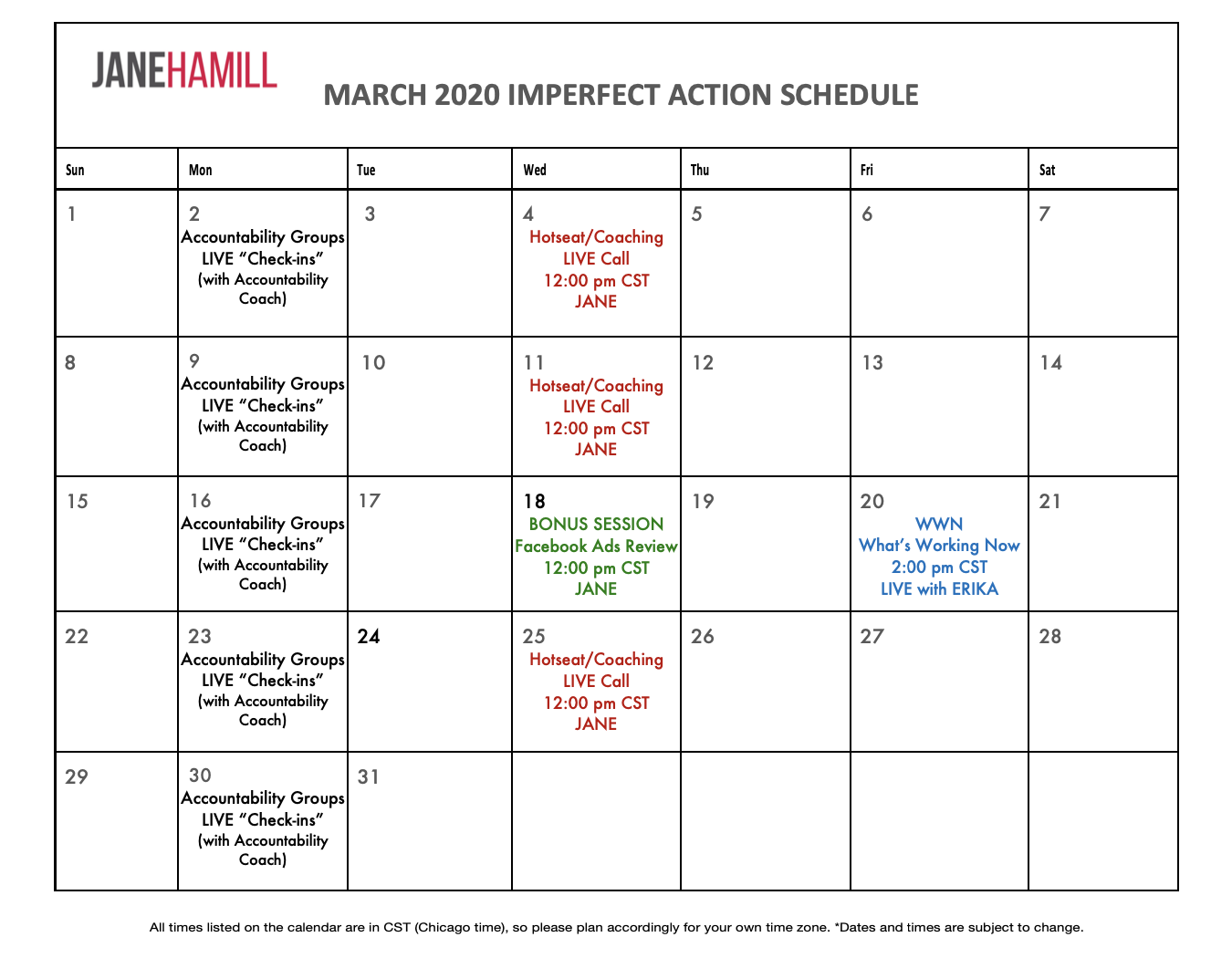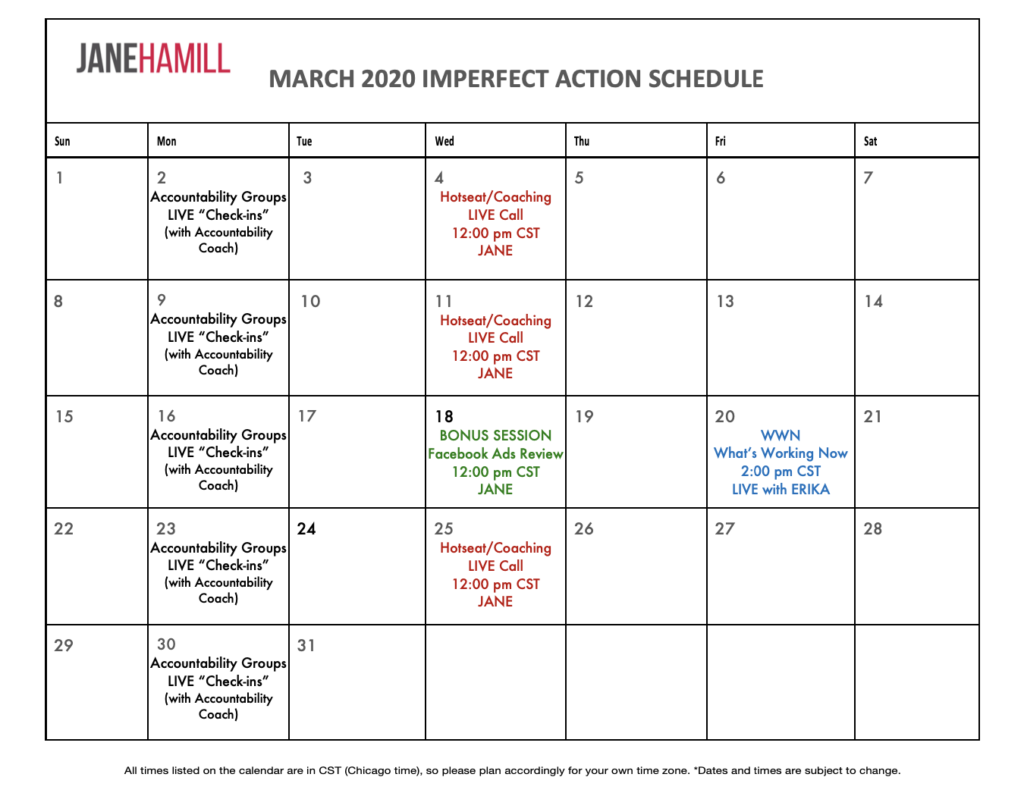 Here are some of the Monthly Topics we cover: 
List building
Video
Website conversions
Lead generation
Lead Magnets
Outsourcing
Goals and planning
Content plan
Email marketing
SMS/text marketing
Sales planning
Traffic


And that's not all…you get full access to some of Jane's best-selling courses:
Sell More Products Online (SMPO) $797 value
Get Your Product into Boutiques $297 value
Trunk Show class $47 value
Costing and Pricing $47 value
Build a Following for Your Brand $47 value
Holiday Markets and Art Shows $77 value
Being a member is like being in my office…
When you're in Imperfect Action, it's like being in my office and having me personally show what's right for YOU and your business. My mission is to help you focus only on the important stuff, the things that lead to making more money without feeling overwhelmed. Period.

$250/month

The coaching membership is month to month. You pay $250 when you sign up and your next monthly payment will occur 30 days later. You can cancel your membership with a 30-day notice. 
I suggest you commit to 12 months. It takes time and effort to put the pieces in place for SUSTAINABLE business and sales growth.
There are no refunds on the first month since we're sending you a Quickstart Box of materials.
We also include the occasional BONUS training from a member. For instance, Using Instagram to Make Money. Tiffe Fermaint from Baby Teith is one of our members and was our guest presenter. She taught us her top secret strategies to close the sale every time. She's using IG to sell every single day and she's CRUSHING her sales goals. Don't miss it!

Questions? Hit us up at jane@janehamill.com or call us at 312.715.8301.
You can do this and you will not be alone while you do it. – Jane
Feedback from Members
"Since working with Jane, our sales are up 80%, we've improved our margins, hired help, drastically reduced discounts, introduced SMS/text marketing, hired someone to do our books, paid off 2 loans…and more. Amazing!
– Claire Wolfson


"It's transformed my business and I've watched it transform others' as well." 
– Tiffe Fermaint


"I can't even believe my results! My sales are up 183% over last year. I don't know what I'd do without the support and guidance I get from Jane and the coaching program."
– Jackie Ayres


"I can't even believe my results! My sales are up 183% over last year. I was worried because I raised my prices halfway through the year. Jane talked me .off the ledge about it and it hasn't hurt our sales at all! I don't know what I'd do without the support and guidance I get from Jane and the coaching program."
– Jackie Ayres


"As an artist, I'd rather be in the studio than marketing. 😉 I've found that in the program, I've got the information I need to be successful. I've got a  way to make a plan of action. and I've got the accountability to actually do the work. And when I do what I'm advised to do, I make more money."
– Jolie Dennison


"I worked with Jane in her Imperfect Action program. 
She has a wealth of very practical information and her spirit and energy are great.
She will make you want to give 100% everyday."
– Chantelle Vaughan


"My online sales are up 280% as of today. I've set up systems so that I can work only 4 days/week!!!"
– Sarah Liller


"I appreciate Jane's way of explaining things; her 'cut to the chase' and simple delivery. Since joining the program, I've gotten comfortable with video, got comfortable with my social media 'voice', and realized e-commerce purchases are long term."
– Kendra Brill


"I've felt a confidence boost and have SO MUCH MORE knowledge than I had. Also a feeling of not doing it all by myself! Favorite parts – Monthly Theme trainings and access to the courses at any time. I have watched ALL your content and it has been so helpful with helping me think through questions I didn't know I had."
– Kristina Vetter


"Jane's real-life experience brings everything down to earth. Being a part of the membership makes everything approachable, because of the step-by-step view on reaching goals. I'm even overcoming the overwhelm of approaching shop owners and buyers."
"I feel a stronger sense of control over my business approach. I see things in terms of systems and the calendar, which is very helpful."
– Margaret Schnipper


"I've been sending out a weekly email since mid-December! And, even better, getting some sales off of them!!!! WOO HOO!!!!! Because the IA membership group is broad with where everyone is at with their businesses, I feel that the training is not too beginner nor too advanced but allows for seeing a vision for 'when I get there'. Love that Erika is so willing to share the 'down and dirty' of her business."
– Jeanette Knittel


"At the beginning of the year, Jane asked us to set a goal…it could be as big as we wanted it to be. I set mine…" to double my wholesale business". I looked at final numbers and I made it!! I came within $2K of doubling.
This would have never happened it I had not worked with Jane as a coach.
Thank you Jane….you are THE BEST."


FAQs
What are the live session with Jane like?
We do them via Zoom video conference. One entrepreneur gets coached at a time and comes on the screen with Jane (you will be on video) and gets a Hotseat coaching session (usually 5 – 10 minutes each person). The person being coached can also share their screen, and the all of the other members watch in real time. Everything is recorded.
How long do the live sessions with Jane last?
60 minutes. We go longer when needed. You can come and go at your leisure and watch the recording.
How much time should I plan for this program?
First, you'll be amazed at what you can accomplish if you simply show up for the Live Sessions. Even if you can't block time for anything else, these 1-hour sessions will move your business forward  – little win after little with – to make real growth. Ideally, you'll spend 4 – 6 hours per month in the program.
What if I can't attend the live sessions?
Everything is recorded for you. You can submit a question in the "Ask the Expert" portal any time and get a response within 3 business days and you have access to the members-only Facebook group. To get LIVE coaching with Jane (also called a Hotseat), you must attend live. To request coaching, you will simply respond to the reminder email we send out the day before. You  submit your request, attach materials for review or briefly explain your question and situation, and you're set.
What is a Hotseat?
It's your time to get laser coaching with Jane during the LIVE sessions. During the live sessions, all members are present on the video conference and Jane pulls up one person at a time for coaching while the other members watch. Here's what you could use a Hotseat for…
Get feedback on your next 3 emails
Content calendar review
Website critique (1 – 2 pages of your site, not an entire site)
Facebook ad reviews – images, copy, stats, targeting, budget, ROI
Sales funnel review
Ideal customer/ buyer persona
Review of your post-event followup strategy
What's working NOW
Lead magnet review
Sales conversion techniques
Content marketing strategy
Is there a Facebook group?
Yes. We believe the program should focus on YOU  — and your coach, Jane Hamill. We also understand the feeling like the "lonely entrepreneur" is no good. Therefore we haver a FB group available to you to comment and tag other members. No rants, no pity parties, no time wasting allowed.
What if I don't live in the U.S.?
This program is for any small business owner, in any country. The monthly packets we mail will only be to U.S. addresses. If you live outside the U.S., your access to the same materials will be online in the members' area and we will not be shipping you anything in the mail.
What if I want to cancel?
There's no contract, you pay month to month, we just need a 30-day notice to cancel. There are no refunds on the first month since you get access to a robust QUICKSTART packet of materials. To cancel, simply email us at jane@janehamill.com and give us a 30-day notice.
Can I pause my membership?
No. Enrollment is purposely limited so we can give our members the best experience possible. If you decide to leave, we will give your spot to another applicant, and you'll need to wait six months to re-apply. We do this because we believe it takes a real commitment to get your marketing and sales system running. Sorry, but "dabbling" with a program like this just doesn't work.
What's the difference between a LIVE Coaching/Hotseat session and asking a question in the "Ask the Expert" portal?
Hotseats are for the LIVE group coaching with Jane (via Zoom video conference), one entrepreneur at a time, with the other members watching. The portal is for quick questions you type in. "Ask the Expert" is where you can type in a simple question and get an answer.
What's the real point of joining this program?
Get high level individualized coaching without private coaching pricing

Build a following for your brand that results in sales

Marketing, sales, mindset, accountability, a clear plan, imperfect action
I'm planning to launch my business in the next 12 months/6 months/3 months… Will this work for me?
No. The program is geared for entrepreneurs already selling who want more sales. 
NOTE: If you're a fashion startup and want to learn the entire process of launching a clothing line, we have this course for you. Imperfect Action is ONLY about building a following and learning marketing – we will not cover topics related to developing a product from scratch, manufacturing, or sourcing.
Will I meet the other members?
Yes. When you join a small-group Accountability Group, you will meet and get to know the other entrepreneurs. You will see the Hotseats with other members. Overall, the membership focuses on YOU and your COACH. My goal is to keep you focused and not worried about what anyone else does in their business. I've seen too many business owners get sidetracked and overwhelmed by watching other businesses.
What if I haven't been active in the membership for a few months, can I get a refund on previous months?
No. You can cancel any time (30-day notice) but there are no refunds due to "not participating enough". There are no refunds on your first month.
May I purchase one of your courses separately from the Imperfect Action membership?  
ALL of our marketing and sales courses have been combined into the membership and are included (excludes the fashion startup course). You can purchase individual courses on this page.
If I want private coaching with Jane, can I request it?  
At this time the answer is no. My focus is 100% on the members and no 1:1 coaching is not being offered.
What's the schedule of the live sessions? 
The times and days will vary each month. Jane's LIVE sessions are typically on Wednesdays at 12 pm CST (Chicago time)and Erika's "What's Working Now" sessions are usually the third Friday of the month. DISCLAIMER: This is subject to change month by month.
When I sign up for the membership, do I get access to ALL courses at once or do I have to wait from month to month?
Everything at once. All of the courses are available to you when you register and nothing is "dripped" out to you. You can binge watch if you like or take your time and learn one topic at a time as it becomes relevant for your business.
After the first QUICKSTART box, what will you be sending me each month? 
Each month will have a particular theme. Your monthly training and workbook will cover the topic of the month. You will also have access to the "library" of courses on the membership site (full list above).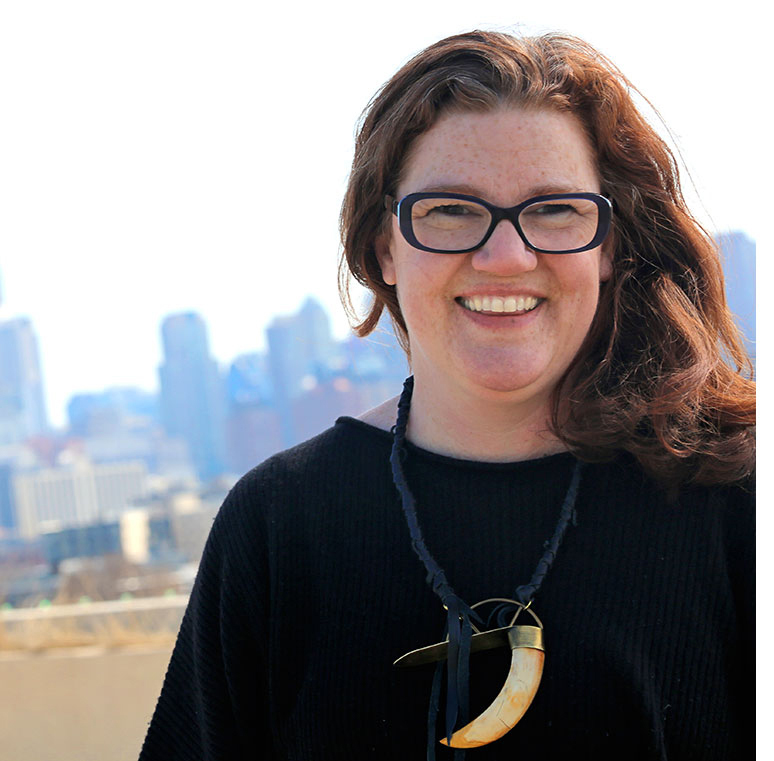 About Your Coach, Jane Hamill
Designed the Jane Hamill womenswear line for 14+ years and owned her Chicago boutique for the same time period
Sold the Jane Hamill line in her own shop and wholesale to Bloomingdale's, Saks, Marshall Field's (now Macy's), Mark Shale, Saks Jandel, and hundreds of boutiques and specialty stores
Jane's collection was represented in 5 showrooms across the country
Designed a line of bridesmaid dresses called Dress Fancy
Great press over the years including CNN, Entrepreneur, InStyle, Lucky, Chicago Tribune, McCall's, National Public Radio, FOX national TV,
Did an essay for NPR's This I Believe series – also in the book of essays. The topic? Barbie!
Sold design biz and retail store in 2007 – 14 years and 2 kids later
Started consulting with retailers in 2007 (with Retail Mavens) with a focus on inventory control, cash flow, open-to-buy budget, marketing, and getting foot traffic into stores
Started Fashion Brain Academy and Jane Hamill Consulting in 2010
Helps creative entrepreneurs make a great living via online courses, business coaching programs, and public speaking
Adjunct faculty at Columbia College
Mentor at the Chicago Fashion Incubator
Enough, enough…you get the idea
About Your "What's Working Now" Mentor, Erika Neumayer
Erika was a student in the Sell More Products Online course and now acts as a marketing mentor while running her business, raredirndl.com.
Started out in January 2010 with a 12 piece collection, a website and a "studio" in her parent's dining room
Website was up by April, but sales were… dismal. Got a new website in 2012 and sales were… meh
Realized that the only way she was going to make this work was to become a student of marketing
Wanted to vomit (marketing?? Ugh!!!)
Took in as much knowledge from Jane as humanly possible, implemented systems and executed quickly
BAM- orders started slowly trickling in
Launched another new website (on Shopify, yay!) that was streamlined and focused on shopping and put the customer experience first
Continued marketing her products every day and found that she could focus her creativity into marketing as well… and BAM orders start coming in more consistently
March 2016 – Launched a massive 3-day sale that brought in $24k (lurkers on her email list became buyers!)
Life changed – but it didn't change the consistency in which she continued to do her marketing
Sales continue to roll in and people continue to THANK me for marketing to them "Erika – I just love your emails! They're so fun. Keep up the great work."
Today Erika LOVES marketing her work because it means money in the bank and a different way to be creative. 🙂
Feedback from Members:
"Since joining, I have set up systems so that I can work only 4 days/week!!! My online sales are up 280% as of today. 
When I decided to be full time in my business, I was pretty scared. I also felt incredibly overwhelmed. Since I've started systematizing my business, I no longer feel like a chicken with my head cut off. I'm a cool, calm, and collected CEO. I look forward to outsourcing even more as my business continues to grow." 
–Sarah Liller


"I've found that in the program, I've got the information I need to be successful. I've got a way to make a plan of action. I've got the accountability.
And something that's really been crucial for me is when you call me out on the live session, you kindly call me out, but when I'm making excuses… you say OK…how can you get around this challenge?
And when I do what I'm advised to do, I make more money."
–Jolie Dennison


"I appreciate Jane's way of explaining things; her 'cut to the chase' and simple delivery. Since joining IA, I've gotten comfortable with video, got comfortable with my social media 'voice', and realized e-commerce purchases are long term."
– Kendra Brill


"I've felt a confidence boost and have SO MUCH MORE knowledge than I had. Also a feeling of not doing it all by myself! Favorite parts – Monthly Theme trainings and access to the courses at any time. I have watched ALL your content and it has been so helpful with helping me think through questions I didn't know I had."
– Kristina Vetter


"Jane's real-life experience brings everything down to earth. Being a part of Imperfect Action makes everything approachable, because of the step-by-step view on reaching goals. I'm even overcoming the overwhelm of approaching shop owners and buyers."
"I feel a stronger sense of control over my business approach. I see things in terms of systems and the calendar, which is very helpful."
– Margaret Schnipper


"I've been sending out a weekly email since mid-December! And, even better, getting some sales off of them!!!! WOO HOO!!!!! Because the IA membership group is broad with where everyone is at with their businesses, I feel that the training is not too beginner nor too advanced but allows for seeing a vision for 'when I get there'. Love that Erika is so willing to share the 'down and dirty' of her business."
– Jeanette Knittel