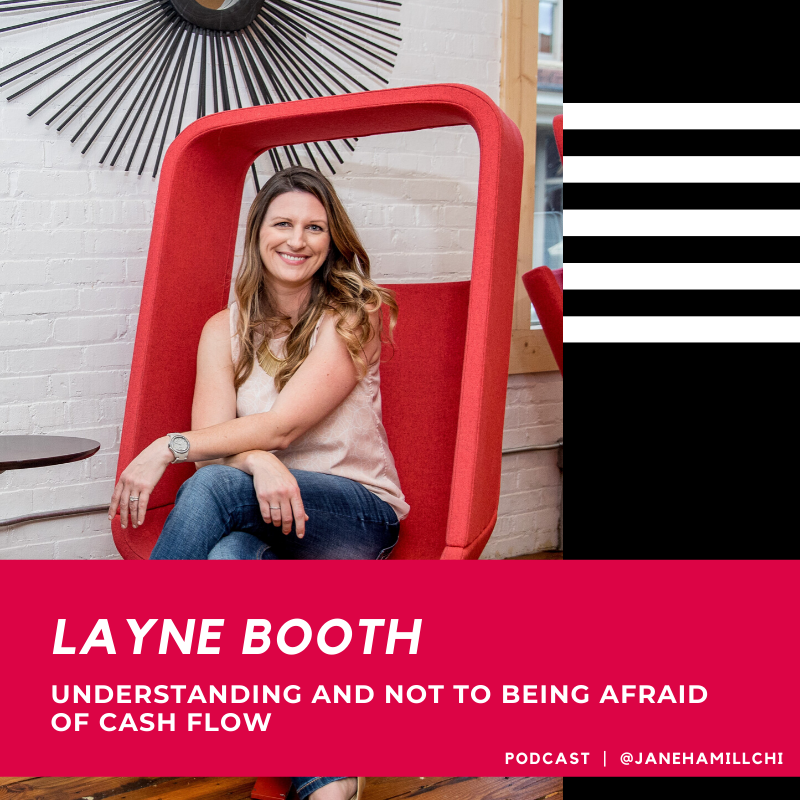 My guest today is Layne Booth, CEO of the Project Booth. Her goal is to "bring the data and not the drama to actually grow your business".
In this episode, Layne and I discuss how product-based business owners can get a better understanding of cash flow, inventory management, timing of deliveries, and other data-driven metrics.
Data and numbers are swirling around in every business. This can be very overwhelming and uncomfortable if you don't understand what the numbers really mean. Ask me how I know…
When I owned my retail store, I was obsessed with cash flow. Obsessed. And usually anxious. My Chicago boutique often carried $500K in inventory – a huge investment that I was always worried about screwing up.
It took me years – YEARS, I tell you – to truly understand an open-to-buy plan, initial markup vs. maintained markup, timing of deliveries, stock to sales ratio, and all the things needed to keep a retail store profitable.
When I sold my store and wholesale business, I started working with Cathy Wagner at Retail Mavens as a retail consultant. In that role, I realized how much I still needed to learn. The ol' you don't know what you don't know. It was awesome.
I remember Cathy going over a client's monthly "sales to plan" dashboard when I stopped her about 6 times to ask questions. Slow down!! Cathy, I'm not picking up what you're puttin' down. 
Her response — Oh sorry, it's just that you're really smart and I figured you already knew this stuff.
I'm smart enough, sure. But the learning curve is THAT high when it comes to cash flow and managing inventory.
And here's the thing…you don't need to spend years learning and refining your spreadsheet knowledge like I did. You could just work with Layne. 🙂
Layne helps business owners with all things data and numbers – online shop owners, Amazon sellers, brick and mortar boutique owners. Anyone who has a product-based business with inventory.
Let's face it, numbers, spreadsheets, and dashboards freak many of us out a bit. Layne just gets it. And she makes it easier for us to understand.
Have a listen…
You can also listen on iTunes and Stitcher Radio
Quotes from our interview:
"We want to make those numbers that probably swirling around in your business and coming out your ears and actually put them into a manageable place where you know exactly what's going on in your business."  (01:51)
"We need to make sure the audience understands what the heck it is because probably most people hear cash and they hear cash and flow and those sound like two lovely things that should go together, but we're not really sure what the heck it means. If it's cash, I want it flowing." (03:41)
"When you've got these big income goals, guess what? You're also about to have some big inventory purchases that are coming along the way too. What's so surprising is that this is such a light bulb moment for people. As if the sales goals aren;t related to the inventory."(16:07)
"If you were to think about your inventory the way realtors think about selling houses, you would change. Oh no, we just need the right buyer. I'm just going to keep showing this house till I die.  A realtor would never do that!" (54:34)
What we discuss:
Cash flow – what the heck is it EXACTLY? (03:45)
What are clients basing their sales goals on? (10:03)
What Layne's most successful clients are doing right now. What's actually working? (31:07)
Amazon versus your own website. Layne's professional opinion. (34:02)
What is Layne's typical client struggling with? What stage are they in? (38:55)
What is the issue with the clients that are NOT profitable? Are the margins not there? (43:35)
The 3-step process Layne puts every client through:

A: Analyze (and audit)
B: Bottom Line (your goals)
C: Clear (decisions)
Links:
Let me know your thoughts on this episode in the comments below.
Also…If this podcast helps you in any way, would you do me a solid and leave an honest review on iTunes? I'd so appreciate it!
xoxo -Jane
About my guest, Layne Booth
Layne's business, The Project Booth, focuses on bringing the data, not the drama, to scale your small business. She understands the inventory and ordering mayhem that becomes a struggle for many product-based businesses.
Layne grew up as a math nerd, graduated college with two engineering degrees and went straight into manufacturing. She spent over a decade in the supply chain world. But as her family started to grow, she was ready for more flexibility.
She started The Project Booth to help businesses confidently plan their sales and inventory and maximize their bottom line. It results in the owner's clarity, and of course, cash flow as they turn into a product powerhouse!
Layne makes the numbers in your business "show you the money", by creating a visual roadmap so you can reclaim your time, focus on your business, and skyrocket sales.