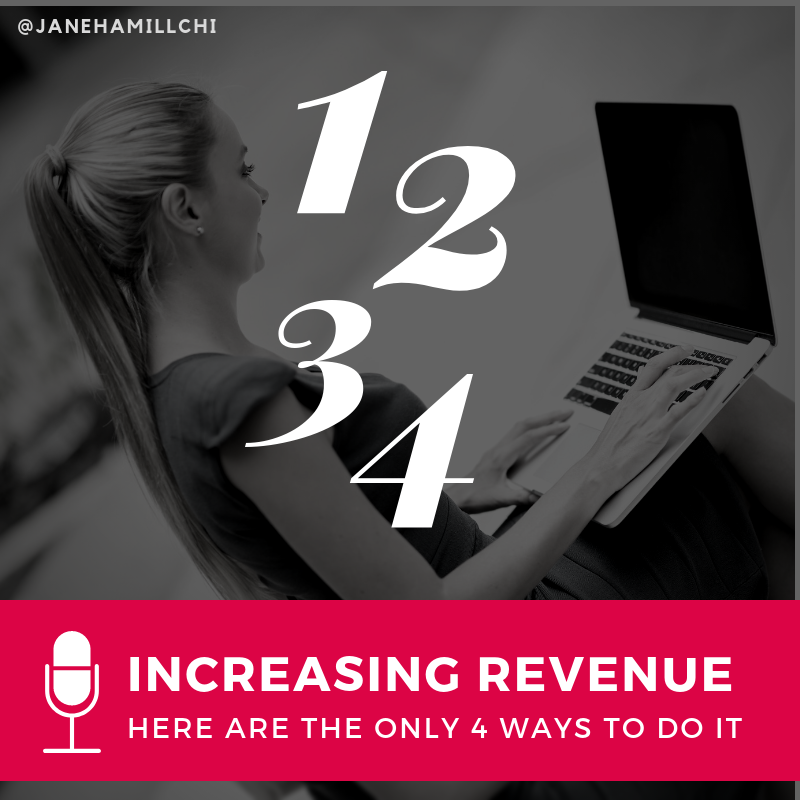 No matter where you are in your entrepreneurial journey, you probably wish your business was different in certain ways.
There are 2 things that frustrate my clients and I hear versions of them each and every week.
Entrepreneur #1)
"I really, really want to be making more money — more money in my pocket, more sales, more profit."
#1 wants more sales, or at least more profitable sales.
Entrepreneur #2) "
"I just wish it was easier. I feel like I work all the time, I'm hustling for every sale, and I just wish it wasn't so hard."
#2 is getting sales but feeling exhausted and probably overwhelmed. They may be burning out.
Today's episode walks you through 4 ways to increase revenue in your business.
There are ONLY 4 ways to increase revenue in your business.
Whaaaa???
Yep. It's not complicated once you break it down. The problem is that most of us are trying to work on all four of these strategies at the same time.
That will not work.
This episode will help you no matter what stage of business you're in or what you sell. Everyone needs to hear this and then decide which of these 4 things you want to focus on first.
Listen now:
You can also listen on iTunes and Stitcher Radio
Here's what we cover: 
#1: Getting new customers
#2: Get your customers to buy more often (increase the frequency of purchases)
#3: Get your customers to buy more each time they purchase (increase AOV)
#4: Increase your margins
Marketing dollars spent to acquire new customers vs. selling more to current customers
Wrapping your offers to buy in content marketing
Giving people a reason to buy (the shrug story…)
Bundling products to increase AOV (average order value)
Content marketing to create steady, free traffic to your site
Designing & merchandising your product line with intention to increase # of units purchased
Mentioned in this episode:
What about you? Do you see how SIMPLE it can be when you break down the ways to increase revenue?
Your Assignment: Which ONE of these strategies will you focus on first?
Get more customers
Get current customers to buy more often
Get current customers to buy more (increase average order value)
Increase your margins
LMK in the comments below! I'm standing by to read what you say and answer any questions. 🙂
Jane