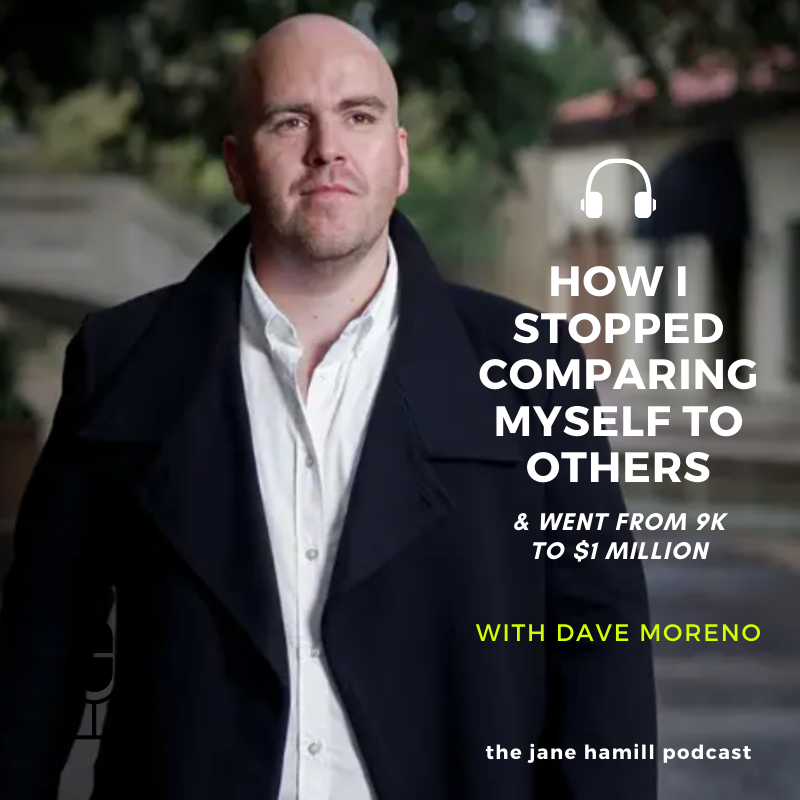 I have an awesome guest today and I'm so excited to have him. He's my own business coach – yup, the coach gets coached.
Meet Dave Moreno.
Dave has an incredible story and he doesn't hold back on the details. 4 years ago, Dave's total annual revenue was $9,000. The next year it was $12,000. This year, he'll clear over $1.1 million.
Whaaaaa?
And GET THIS. That's with $0 in ad spend!! WTF.
Dave Moreno is a certified coach from The Life Coach School (they recently gave him a  shout out for reaching the 2 comma club). He's well versed in Brooke Castillo's The Model and when he combines that with his business background, I can tell you from first hand experience that it's super effing helpful.
In this podcast episode, Dave and I talk about overthinking, comparing himself to others, the frustration of 2 years with barely any income (and 4 kids), discipline, routine, the decision he made that EXPLODED his business, and his simple 3 step process to reaching $1 million in sales.
Listen now:
Real talk from this episode:
The hardest part is when you sit in comparison and worry and fear and try to figure out how –  that is the hardest part." (04:22)
"The longer you spend overthinking, the longer it's going to take you to make your money." (5:36)
"If you're in a rush to make money, it will take you forever." (11:50)
"I give it all away because I want to build my audience. I don't want to make money from them." (14:08)
"A decision without a routine will never work." (21:19)
"The only content that gets you business is the one you release. The 'perfect content' that's sitting in your brain somewhere that 'will come out one day' makes you $0." (31:15)
Mentioned in this episode
Have a great weekend and Happy Holidays!
Jane