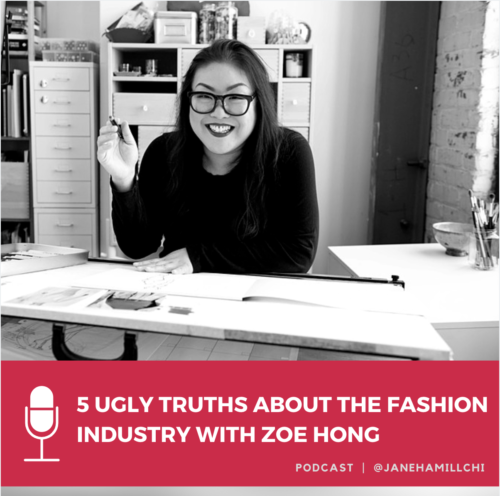 My special guest today is a breath of fresh air in the fashion industry, Zoe Hong. I came across one of Zoe's videos on Facebook and immediately loved her.
NOTE: I usually skip fashion stuff in favor of business stuff, but Zoe's video sucked me in because she's so dynamic and smart.
Zoe's YouTube channel has over 185,000 subscribers (!!) and I can see why — she tells it like it is and she makes NO apologies. She's super smart and today she's giving us some truths about working in the fashion industry.
For instance…
"How you look matters. You think you're going to buy anything that's not pretty? Create a look that's memorable. Cultivate a particular style. People will have visual cues to remember you."- Zoe Hong
Zoe doesn't mince words and I especially love it when she quotes Oscar Wilde.
"Fashion is so ugly we have to change it every six months."  -Oscar Wilde
Love this. Perhaps because it's a little too close to the truth???
Check out this week's interview (part 1 of 2) wither as a podcast or as a video.
You can also listen on iTunes and Stitcher Radio
Watch it here as a video:
What we cover (part 1 of 2):
What's the deal with copying?
What if I don't "look the part" of a fashion person?
Creativity is everything in fashion. Or is it?
Mentioned in this episode:
About Zoe Hong: After working in the fashion industry for many years, Zoe Hong started teaching at Academy of Art University in San Francisco in 2012. She started her YouTube channel in 2015 with a desire to help students who didn't have access to a top university education. Zoe teaches fashion design process, illustration, and fashion industry best practices, among many other subjects, on her YouTube channel, as a guest lecturer at schools and arts organizations, and on multiple programs on NBCUniversal's Bluprint.
Are you a fan of this podcast?
If you like the episodes, please tell a friend! And leave an honest review on

iTunes

. I'd really appreciate it. 🙂
Jane