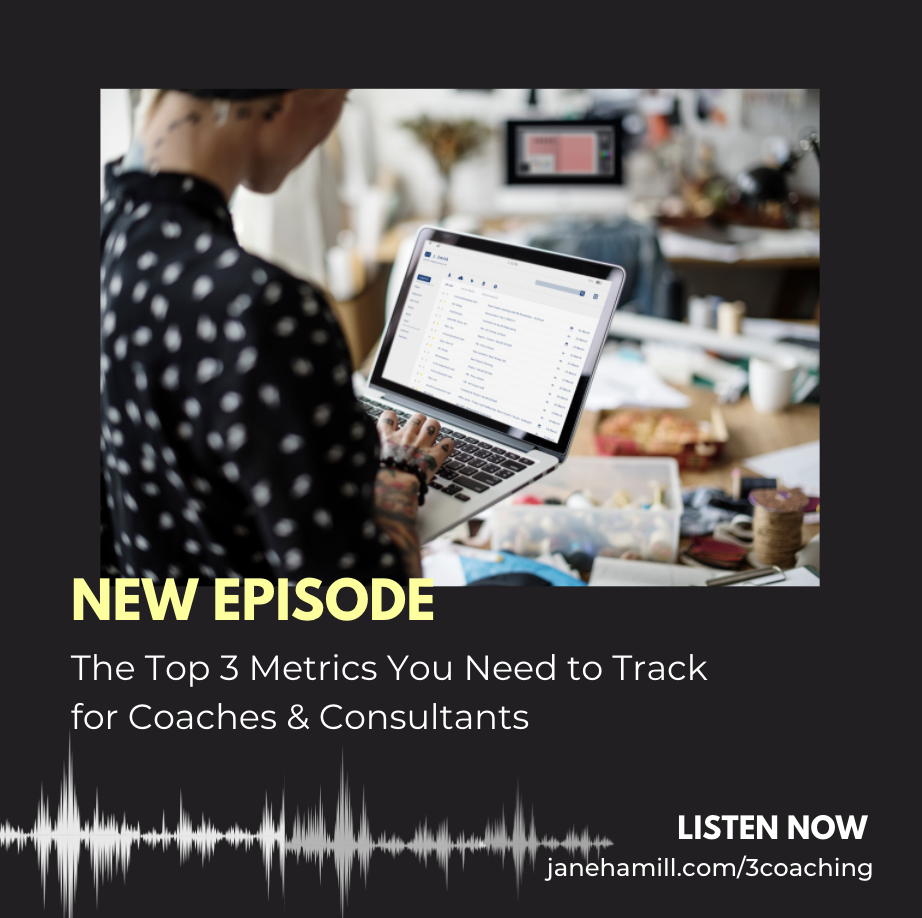 Last week, we covered the top 3 metrics to track for online sellers and anyone with an e-commerce business. If you missed it, go here.
This week is specifically for coaches and consultants. I've even created a Monthly Metrics Tracker excel document that you can download for free and start using today. There's a version for e-commerce and one for coaches and they come with a detailed explainer video so you know exactly how to use it and stay focused on your growth.

In today's episode:
my THREE

most important metrics to track as a coach and consultant

 



Why the PIA FACTOR (pain in the arse) has a prominent spot on my Monthly Tracker

the exact metrics 3 other smart coaches use so you understand different coaches have different priorities

why the metrics I track today are very different than what I tracked as a startup
Why is it so important to track your monthly business metrics?
"What gets tracked improves. What gets tracked, measured, and reported back improves exponentially." –Pearson's Law
When you track your progress you can start to see growth over the long term. Little win after little win – these add up and boost your confidence. There's a reason people LOVE fitness trackers. We all have friends obsessed with tracking our daily steps, right?
Because when you see progress, you get more motivated. You feel good about the possibilities and you do the things.
Listen here to find out more about my 3 metrics…
 

 You can also listen on iTunes. Spotify, and Stitcher Radio.
Do you want the Monthly Metrics Tracker excel doc to use for your own business?
Mentioned in this episode…
Now it's your turn.
What are your top three metrics? After you listen and download the excel Tracker, take a moment to SHARE them with me in the comments & let's get a discussion going.
Got questions about YOUR metrics? Just ask in the comments below.
I want to help you. 
Jane