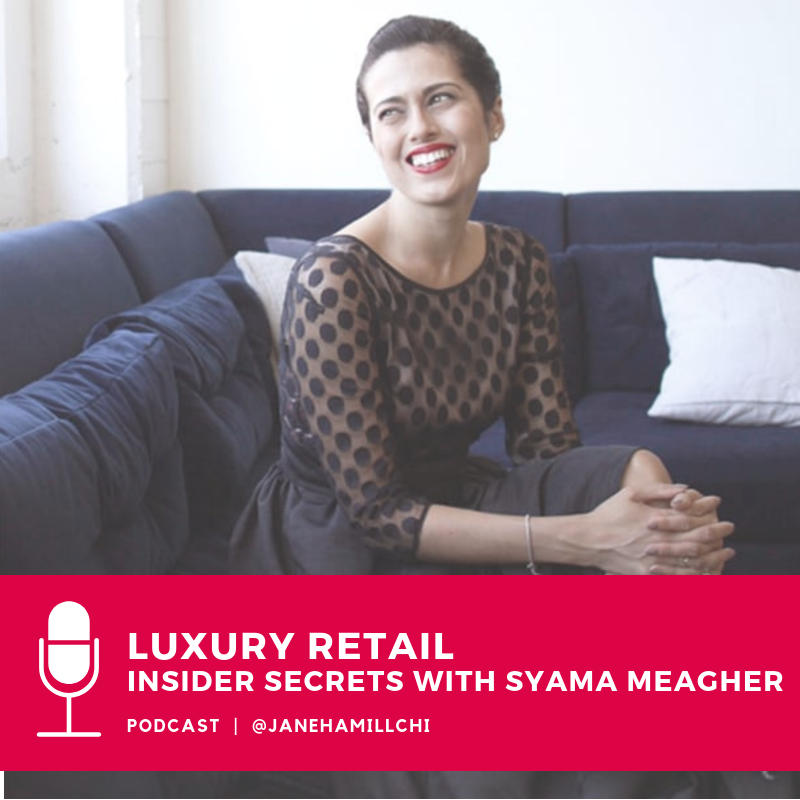 In today's episode, my guest is Syama Meagher, founder and owner of Scaling Retail. Syama has worked with some heavy hitters in retail… Barneys, Gucci, and Macy's, to name a few. Syama's a thought leader in the world of luxury retail and she's IN IT every day.
We discuss the future of retail, the changes in what luxury really means these days, shifts in consumer shopping patterns and emotions, collaborations with luxury micro-influencers, and more.
I learn a lot from Syama and I think you will too.
Have a listen…

You can also listen to this episode on iTunes and Stitcher Radio.
Here's some of what Syama shares in this interview:
On the future of luxury retail: "We're seeing a definite shift in the market in terms of customers looking to identify with culture rather than trying to identify with a traditional heritage craftsmanship type of positioning."
On what luxury means these days: "These days brands having sourcing and manufacturing by a small group of artisans in a village in India could be considered luxury because of the impact, the connection and the collaboration with the manufacturing and design process."
On collaborations and influencer marketing: "…it's not just to any micro influencer who puts the hashtag #luxury. You want to look for someone who's really going to represent your brand in a way that is going to help your customer finds you."
On finding customers: "I think a lot of it also just has to do with, again, leveraging people's key emotional desires. Being able to spend a lot of money doesn't always mean that you're making a lot of money."
Mentioned in the podcast:
Your Turn…What do you think? Do you agree with Syama's take on luxury and the future of retail? If you're in the luxury market, what's YOUR opinion on what to expect in the next 12 months? I'd LOVE to hear from you in the comments.
As always, thanks for listening!
Jane