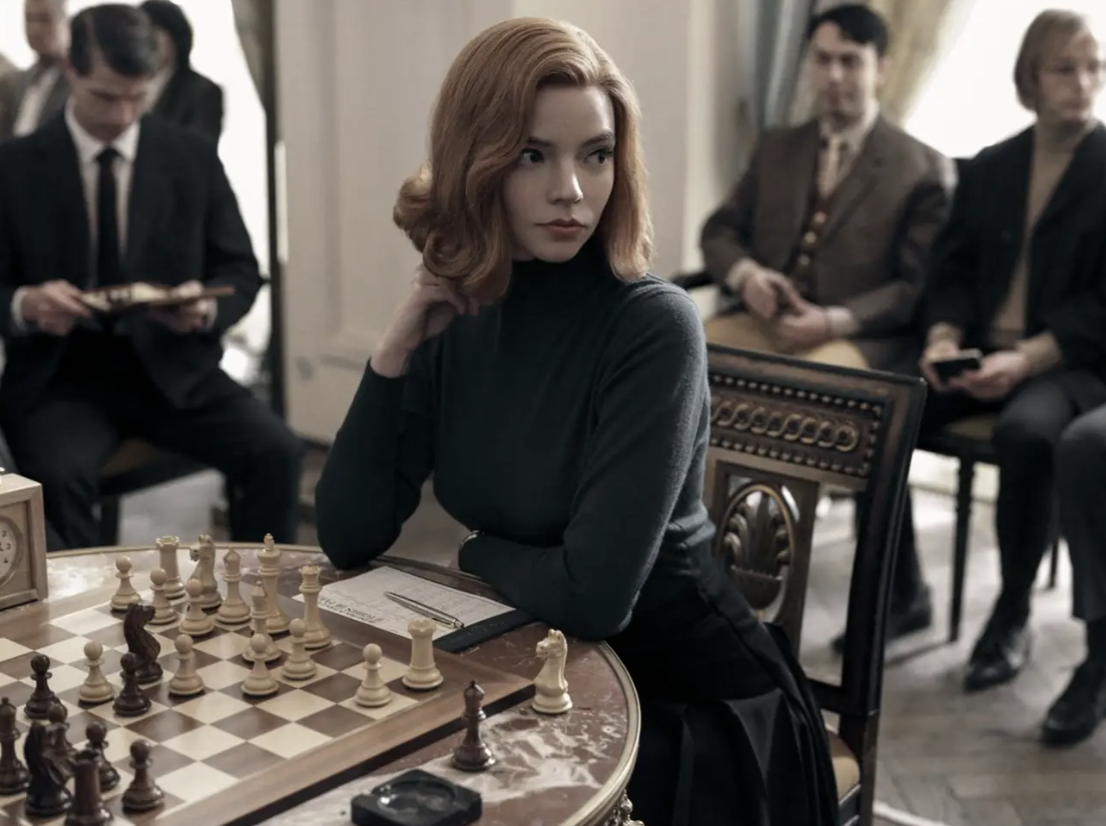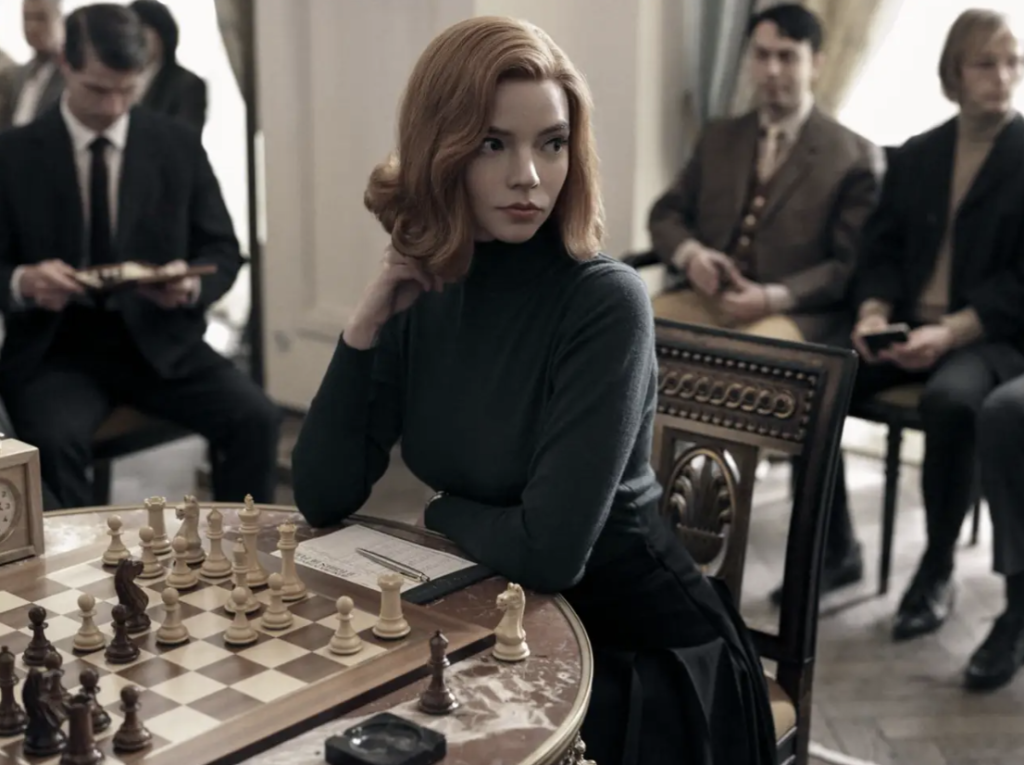 What if you treated your business like a big, fun, sexy game?
Imagine a chessboard with its black & white pieces lined up to do battle, the ultimate in creative strategy.
So basically, you're Beth Harmon – the big eyes, the great outfits, the chic red hair…
Look at your board.
The king, in the center, surrounded by his combatants and defenders.
The queen?
She's the most powerful piece on the board, if you know how to use her well.
Now, imagine your business, all lined up and ready to do battle with your competitors.
You, in the center, surrounded by your products, your messaging, your purpose, your prospects and customers.
Your content?
It's the most powerful piece in your marketing arsenal, if you know how to use it well.
To use your chess queen to its best effect, you have to think strategically and on your feet in order to respond correctly to your opponent's attacks. A good chess player anticipates her opponent's moves.
To use your content marketing effectively, you have to also think strategically, creatively, and somewhat on your feet, too, in order to respond to the changes in the marketing world, and to anticipate – and meet – your audience's needs.
That's why today's discussion is all about content marketing. How to use your content to move your business forward and meet your business goals.
By the way, this is a 2-part podcast. In part 2, I'll give you 5 tips for content marketing in 2021 —  we'll look at some tried and true strategies, as well as some new cool things to the content marketing world.
Keep reading below or listen as a podcast.
You can also listen on iTunes. Spotify, and Stitcher Radio
The Four Elements of an Effective Content Marketing Strategy
Let's talk about the four things every content marketing strategy must include in order to be complete and effective.
Brand Positioning
You have to know who you are, what you do, and who you serve.
In order to present yourself and your content in the best light, these things MUST be top of mind. |
Most importantly, it's THE WHO that matters.
Who is your IDEAL customer
What does she want?
How can you best serve them
And how can you serve them better than your competitors
Answer these questions and you're well on your way to creating a content strategy that stays consistent, true to you and your brand, and keeps people coming back for more.
Owned Media and Its Value
Your owned media is any online channel you control, such as your website, your blog, your podcast, your email list. Some would also say, to a certain extent, your social media profiles.
I do NOT consider social media – however valuable – to be owned media. I prefer an algorithm-proof business.
Here's what to think about…
What value does your content and community offer to your audience that they can't find anywhere else? Why should they subscribe to your emails, blog or podcast? Why should they follow you on social media at all?
What have you got that the other guys don't?
Too many content marketers make one of two mistakes with their owned media:
They don't focus on the audience enough, creating content that doesn't "fit" them well
They don't focus on content from the customer's perspective and they create content they like – insider stuff. For example, sustainability topics that attract only other designers. "How I Made This" tutorials that attract DIY people and other designers, not customers.
One more thing about social media profiles: You may control your profiles, but you don't truly own them. Don't rely solely on social media for all your content marketing tactics.
What would happen if Facebook, Instagram, or YouTube suddenly started charging for business profiles? Or banned your account?
Your own media, like your website, blog, and email list, should be your first priorities.
Business Goals
Providing value to your audience should be part of your content marketing strategy, but it shouldn't be the end of it.
Too many times, entrepreneurs forget the "marketing" part of content marketing. They get so caught up in content creation and promotion that they lose sight of the business end of things.
Your content should help move your audience forward toward some sort of action that will then move your business toward some sort of goal.
In chess, the best players can focus on the entire board and the knight attacking their rook.
For business, this really means using social media to get people over to your site so they take a desired action – either get them to buy – or get on your list so you can communicate with them until they are ready to buy.
We don't know their timing, and that is why we ALWAYS need to be marketing – so we're top of mind when it's time.
Strategic Plan
An important part of any content marketing strategy is the thought-out plan of action created to achieve those goals. Preferably, it's a written plan. Let me repeat that:
Put it in writing.
You need a plan. A simple, do-able plan that you can ACTUALLY implement. Too many creative entrepreneurs don't bother to write down their content strategies, and then they forget them, don't follow them, and then wonder why their content marketing goals weren't met. (Ask me how I know…)
Write it down.
You can start with a page in your notebook or the back of an envelope. A one page plan is a terrific start! It can be as simple or as elaborate as you need it to be. But it needs to be in writing.
After you get your "crappy first draft" of a plan, you can get fancier and use a Content and Promotions Calendar. (You can download the calendar we use and learn how to use it effectively in this $27 Content & Promos Calendar workshop.)
OK, I hope this helps you with a BASE for your content marketing. Be
Mentioned in this episode:
Tune in for Part 2 next week — Five Content Marketing Tips for Product Based Companies.
Until next week,
Jane