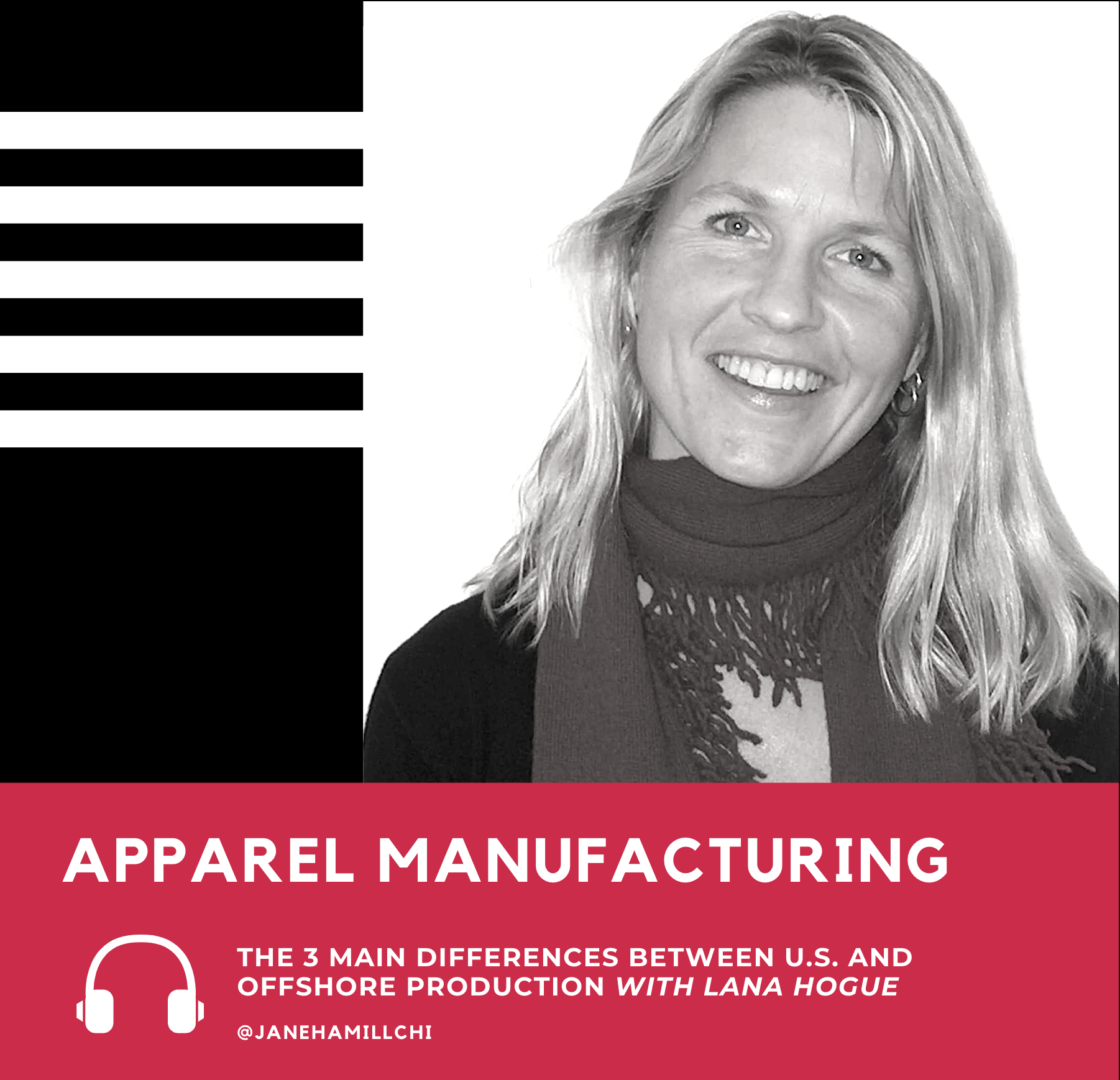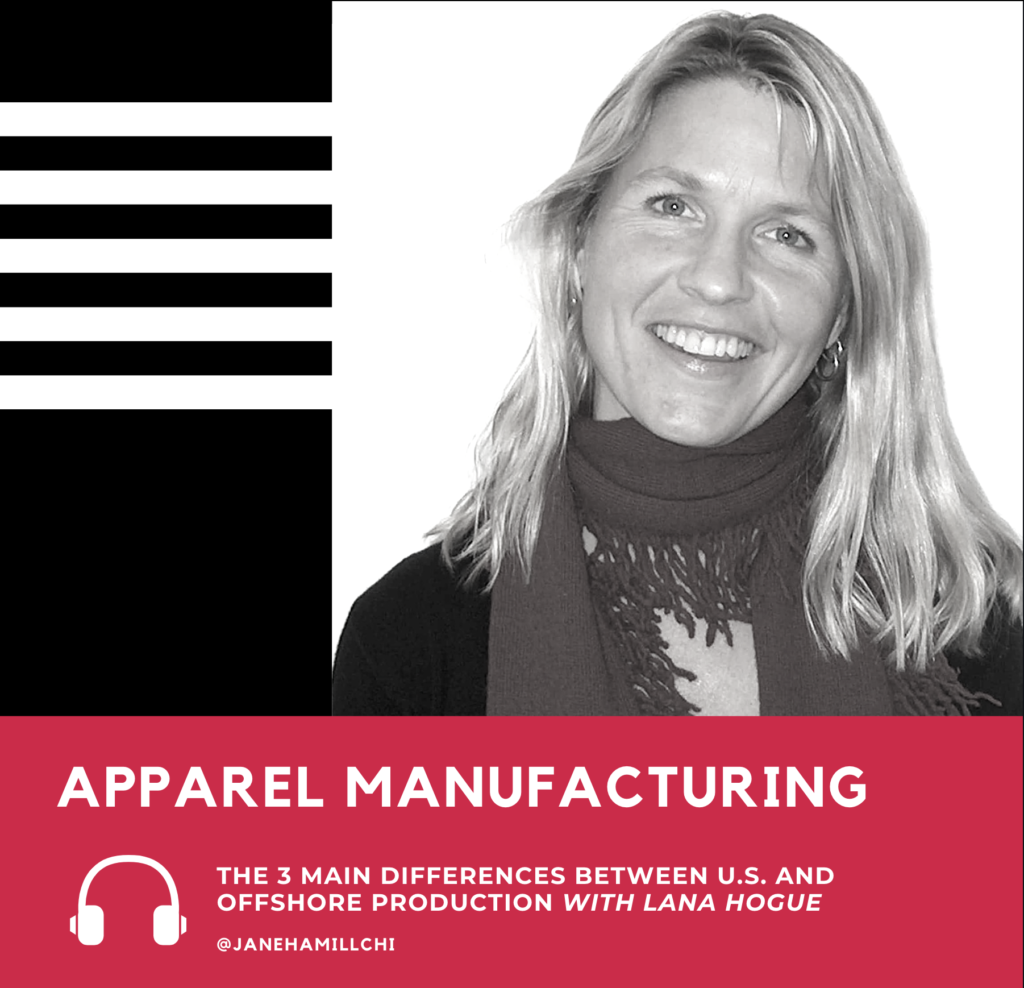 Today's episode is a departure from our usual marketing & sales topics. We're diving into a topic I spent 14 years obsessing over when I owned my clothing line and boutique – apparel manufacturing.
My guest is apparel product development and manufacturing expert. Lana Hogue. I've known Lana for years and I trust her advice completely about all things manufacturing. She's the real thing.
Lana has worked in manufacturing for over 40 years and has extensive experience in sourcing, development, production, systems, and operations both in the U.S. and off-shore including Asia, Latin America, and the Caribbean Basin.
She speaks Cantonese and Spanish #badass.
What we talk about (see Lana's full notes below):
What is a tech pack and do I need one?
Which apparel products are best to be made overseas and what are appropriate for US production
The 3 things you need to prioritize in production
What it it was like to work at a company and see it grow – DOUBLE  in size every year for 5 years
Why you need to build a following BEFORE you even have your product ready
I could talk to Lana FOREVER! She is so knowledgeable, has great stories, and has helped many of my product-based clients understand how to get a product produced.
Have a listen:
You can also listen on iTunes. Spotify, and Stitcher Radio
Mentioned in this episode:
Lana's Notes:
Lana has graciously agreed to let me share her full podcast notes. AMAZING!! Here you go…
Paths to Manufacturing (and Business) Success
Many supply chain options –  from local to various offshore countries (different strengths)
Many product development options – prototyping inhouse / local pattern & sample makers / or relying 100% offshore vendors to develop from a tech pack.
Best options depend on: type of product / quantity / may change over time
Domestic or Offshore Apparel Manufacturing – The Differences
Capabilities & Level of service
Offshore vendors source raw materials & provide "full package".
Offshore manufactures often offer product development in addition to production (careful – they will own your pattern!)
Production Minimums: Locally low to zero MOQ
Production Minimums: Offshore usually 300 – 500 per color. Can be higher depending on fabric minimum
Cost: Local = based on labor. Local need to factor in your own quality management.
Cost: Offshore = based on raw materials, but significantly lower. Offshore need to factor in transit and duty.
Garments That Are Difficult or Impossible to Make in USA
Underwire Bras (Bralettes & Panties OK)
Tailored Suit Jackets. (Tailored Pants Possibly)
Seam Sealed Outerwear
Hand Beading and other Hand Work
Recommended Path for Manufacturing for Startup Fashion Designers
Learn! It all starts with you learning the ropes…
Start local & learn small when you have less to risk.
Don't be tempted to use all-inclusive services that keep you from participating & learning.
Get offshore & local cost quotes, move offshore when demand meets minimums & is predictable.
Keep product development local
"Guerilla" production still requires quality assurance steps
How did you like this episode? You know I LOVE hearing from you, so please let me know in the comments below. And if you have a follow-up question for Lana, you can post that too.
Jane
P.S. Get 10% her Tech Pack Template & Explainer Video with special coupon code: Insider10
About Lana Hogue:
Lana is a sewn-products supply chain guru. She's passionate about socially responsible production – both local and offshore where her language skills are needed (she speaks Cantonese & Spanish). Lana has worked as an employee or consultant to hundreds of companies from start-ups to $15 billion in sales. She teaches and consults on ethical manufacturing through www.garmentindustry411.com. When she's not working, Lana can be found hip hop dancing or riding her motorcycle along the coast.
Get 10% her Tech Pack Template & Explainer Video with special coupon code: Insider10