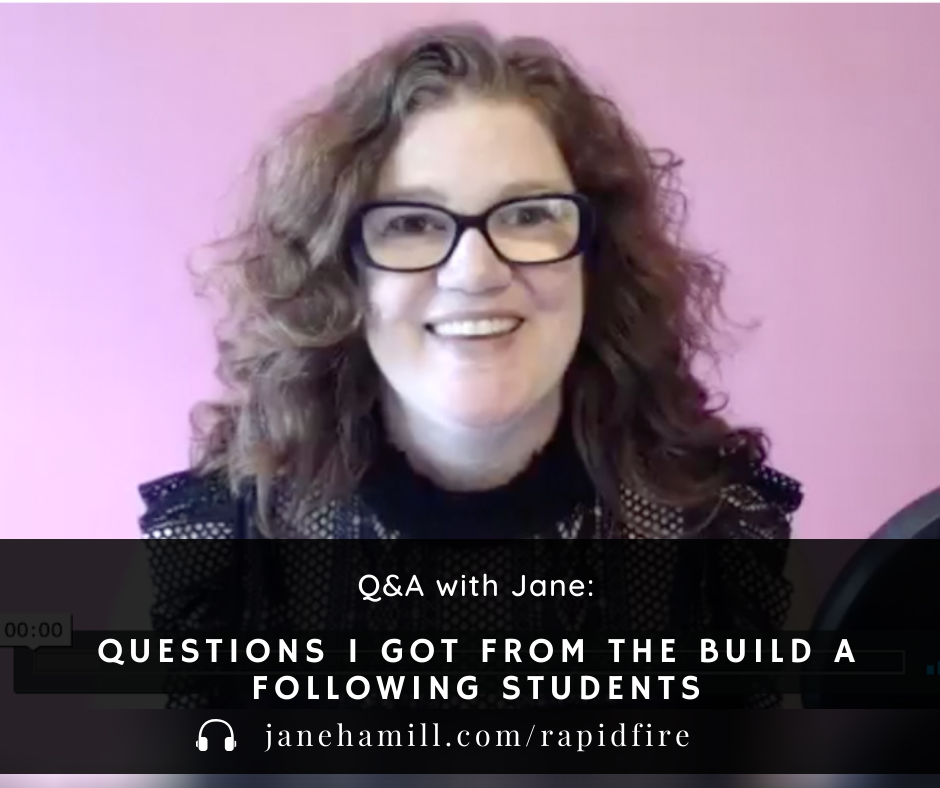 I'm changing things up a bit. Today's podcast is rapid fire Q & A day. I just had the most fantastic experience with the students from my Build a Following Before You Have a Product Ready to Sell and I want you to hear just a few of the great questions I got.
First, here are the 6 Steps to building a following that we go through in the course:
Who's your ideal customer and your marketing message
Build a list
Get a home base
Create content and add value to your ideal customers lives
Show up
Increase your reach – tentacles
We like to think that we can sell to anyone who has money. but you can choose your customer. Think about it… Who do you most want to see using your product or service? The key to having a really successful you need to choose your niche and your ideal customer, meaning they like what you do, they get it and see the value and have access to money.
Here's a sample of some questions I received:
"I'm still having trouble with the ideal customer. What if I don't know personally know a real person or know of a real person that could be my ideal customer?"
"For posting videos, do you post directly to your blog, and then directly to your Instagram, then directly to your Facebook  so that every platform you want to post them is done separately or is there a way to link them?"
"How much in advance should we talk about content that is related to some holidays?"
Listen here to find out Jane's answers:
You can also listen on iTunes. Spotify, and Stitcher
Radio
"You really should focus on product development at the same time you focus on customer development." -Jane Hamill
Show Notes:
I love hearing from you! Let me know what you think of this format or if you have other topics you want to hear, leave me a comment below.
Jane