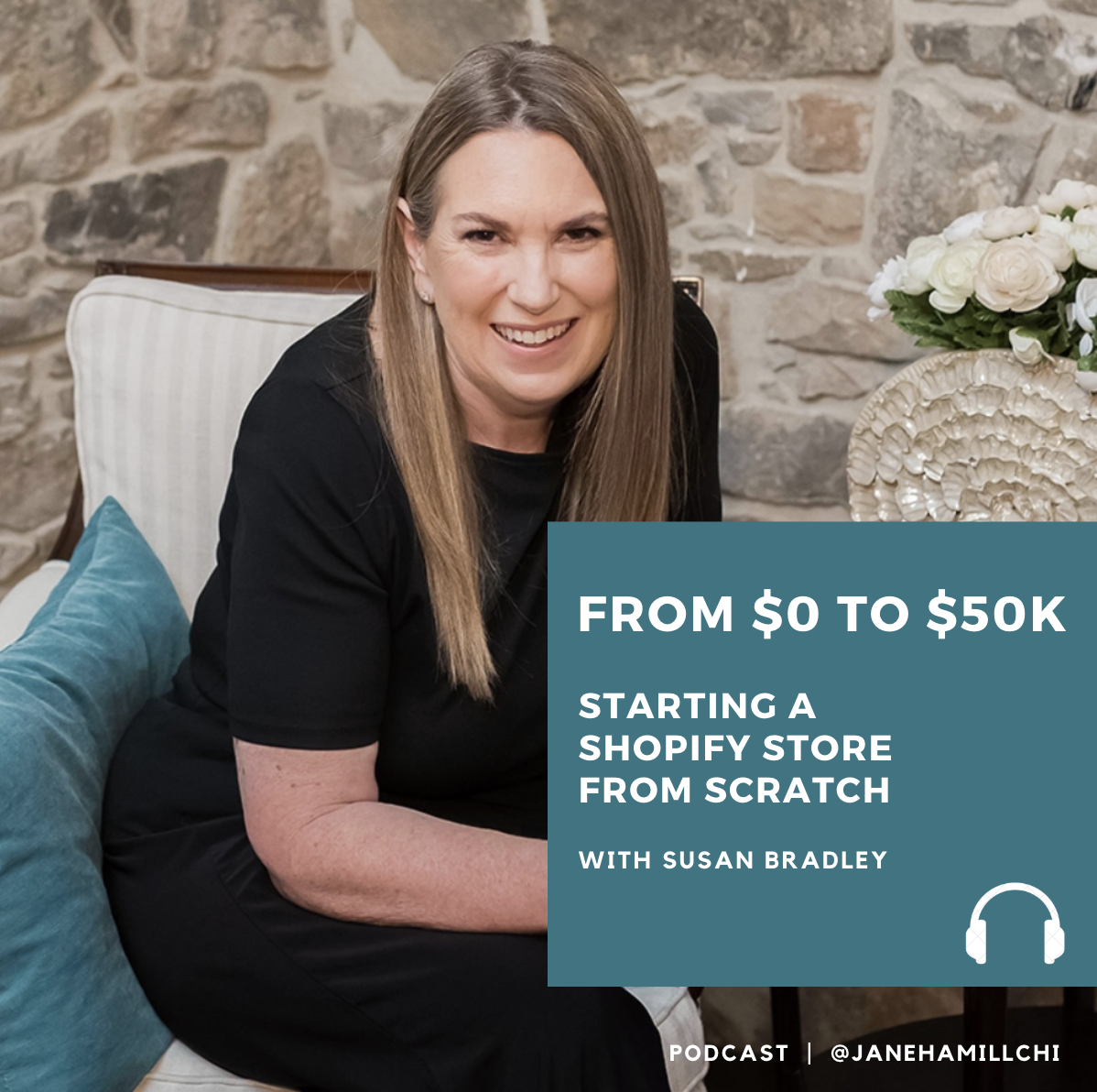 Ohhhhhhh I am excited for this episode!!
"Nobody wants to share the stuff that doesn't work." – Susan Bradley
Susan Bradley is the rare person who's willing to share publicly the good and the bad as she launches a Shopify store from $0 to $50K in sales.
Honestly, I don't think I'd have the courage to do what Susan's doing – sharing step-by-step, in real time, the building of her online store.
It's fascinating and inspiring. And things do not always go as planned,
In this episode, Susan tells us about choosing a niche and then pivoting away from it, doing a proof of concept event (including what it cost her and the exact results) and the "sideways launch" that wasn't really meant to happen but happened anyway.
Susan is a seasoned e-commerce and retail entrepreneur. And yet, she tells us…
"I told everyone I would show them the road to $50K in sales on Shopify and then I went and hid in the corner." – Susan Bradley
Like every entrepreneur on the planet, Susan feels the fear.
She feels equal parts confidence and fear, I think.
It's so refreshing to hear how honest she is about everything.
You're going to LOVE this episode.
You can also listen on iTunes and Stitcher Radio
In this episode:
"You cannot control your sales with Facebook and Instagram ads."
What it cost Susan to have a proof of concept event.
Is a list building giveaway worth it? Do these people really buy?
How susan puts a funnel on the back of a giveaway that converts to sales.
"What people want, what I want, is to be able to earn an income that supports my family on my own terms."
The Roadmap to $50K- https://thesocialsalesgirls.com/
"I had actually named one of my FB ads, "Please Work". Cuz I'm just gonna fall into a puddle on the floor if something doesn't work soon."
Show Notes and Links:
Want to help?
If this podcast helps you in any way, would you do me a solid and leave an honest review on iTunes? I'd so appreciate it!
Thanks for listening!
xoxo -Jane