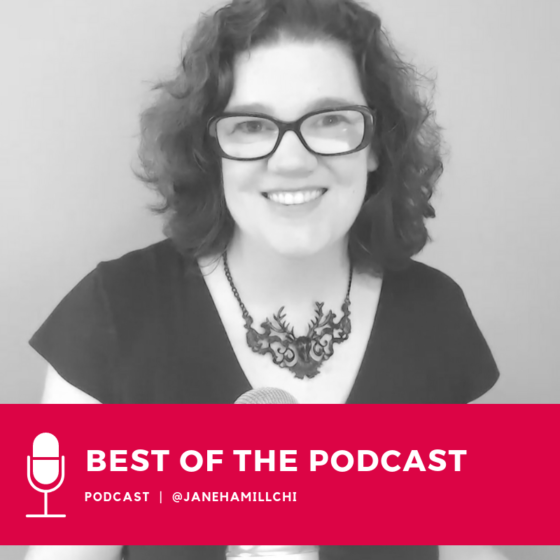 Something different today. How would you like a (free) crash course in being a successful, money making business owner?
This week, 2 people asked me for the best way to get started listening to my podcast – the MOST useful episodes.  So I put together a list of the 5 podcasts with lessons that will turn you into a lean, mean, entrepreneurial machine.
1) Start with the idea that "perfect is good but done is better". 
Perfect is Good but Done is Better – Imperfect Action
Excerpt: "So, a couple of years ago, I have a lot going on. I mean, everybody does, right? I'm a mom. I've got two kids, a husband, two houses, two cars, two, well two husbands actually, but not at the same time. And I'm feeling like I just can't get this all done. I'm going to have to figure something out. So I decided my number for the year was going to be 86.
86% good is what I was striving for. So if I could do something at a hundred percent and it would take me however long to do because it all had to be just right – I would switch my thinking and my actions to getting it accomplished at 86% of my ability."
No perfectionism. No huge procrastination. Just get shizzle done at 86%. Because it's IMPERFECT ACTION that gets you results.
"Perfect is good but done is better." Live by it.
2) Learn the concept of "showing up" and taking manageable "baby steps" from Paul Klein.
What Makes a Successful Creative with Paul Klein
Excerpt: [11:51] Number two is show up. Get your butt out the door. It's about relationships. It would be beautiful if it was just about the art or just about the fashion and there's, but there are plenty of people who make art and fashion that is desirable. They're not showing up. The fact of the matter is if you go out there and be likable, if you invest, if you grow your community, and I differentiate in terms of grow your community and networking. I think networking is, here's my card, what can you do for me? And I think growing your community is, hey, we're both in this together…
Excerpt: [21:21] If you're making something and you believe in it, you're an asshole if you don't get it out into the world. It demands to be seen and you are holding it back. What kind of jerk is that? Get over yourself. You've made something beautiful. It needs to be seen, get it out there."
3) Feeling like the lonely entrepreneur? This one's for you.
My Family and Friends Don't Support Me in My Business
I mean, really, why don't friends and family members act more supportive? Why do we, as creative entrepreneurs, feel like we have to DEFEND our business and our choices to other people? I know that's on me – and I could deflect and ignore people's comments. But sometimes it hurts. If I had a job at a bank, even a crappy job, I wouldn't hear off-hand remarks about my "little business", would I?
Excerpt: [10:31] You don't want to have the feeling with your spouse that it's not enough. Like YOU are not enough. The business is not enough. I've had some success, honey, didn't you see it? And you really want their approval, and really you must have the hard conversation and get this out in the open or it will fester and it will make doing business very, very difficult because a lot of what you do in business is not learning the marketing strategies….
…It's not writing good emails, it's not designing good products, it's not sourcing good things. It's what goes on between the ears, right? And if you have a feeling of not enough-ness, of, Oh my god, I need to make this happen fast. Oh my god, if I don't do it, they're going to pull the plug. If you're dealing with that low level stress every single day, that will make you sick. It will make you ill and it will make you not like your business and it'll make you not like that person who you're giving the power to disapprove of your business."
4) Doubling daily orders and doing business YOUR way. Next up is my personal business guru, Dana Jaunzemis. What I've learned – an then actually implemented – from Dana has changed my life. Not exaggerating.
Her style of doing business, laser focused attention to profit, and gown-up (I'll do it my way thank you very much) work style has changed the course of my career. She's the reason I took the risk to start my monthly coaching program. She gave me courage. She showed me a true example of doing business MY way and not worrying about anyone else.
Doing business the Dana way is liberating. The liberation comes in 2 parts.
Doubling Your Daily E-commerce Orders with Dana Jaunzemis Part 1  & Part 2
Excerpt: [07:49] "Our first goal in a business is never a dollar amount goal, it's always an action goal. What can I do to double the number of orders in this business? I'm not thinking about money at first, it's always something actionable. So if I buy a business that's doing 10 orders a day, everybody working with me knows we need to get to 20 orders a day. It is a common language that we can all get there. We're all going to get on that bus and drive it together to get to 20 orders a day. 
Excerpt 2: [27:31] My businesses could easily double or triple, but that would push it to a place I don't want to work. So what's the point? Because this is my business, this is my life and my business. Nobody can tell me what I'm gonna do. So I'm creating this work style and lifestyle that makes me incredibly happy and I've had to get there by getting to places where I was unhappy and going, wow, this sucks. Wow, this isn't fun. And then scaling back.
And so I've found the happy middle. I know right now where the happy middle is. We're bigger than a tiny business is. Yes, we do have eight or 10 employees now. We're not a big business and I don't want to be. And we're very cash flow positive."
5) And for those of you who are waiting for that magical business partner to swoop in and take care of the marketing and sales so you can get busy with the fun stuff, this is for you.
Believe in THIS and Everything Changes
Excerpt [01:16]: You probably don't like the idea of having to feel sales-y or desperate for the sale and honestly, I get it. I really do, but I'll just put it out there that I've been afraid to share this today, afraid to scare you off by being 100 percent honest with you about what you need and what you need to believe to really make a successful creative business with money in the pocket. All right? In your pocket.
Now, there's so many reasons that I want you to know why money is important. I'll go into that a different day, but for the most part, if you are having positive cashflow and you have good margins and you're making money with your business, your stress level is lower."
Your Turn! Will you do me a quick favor? 
Let me know in the comments below what episode you like best and why
Let me know which one is your favorite in the comments below. As always, thanks for listening,
Jane