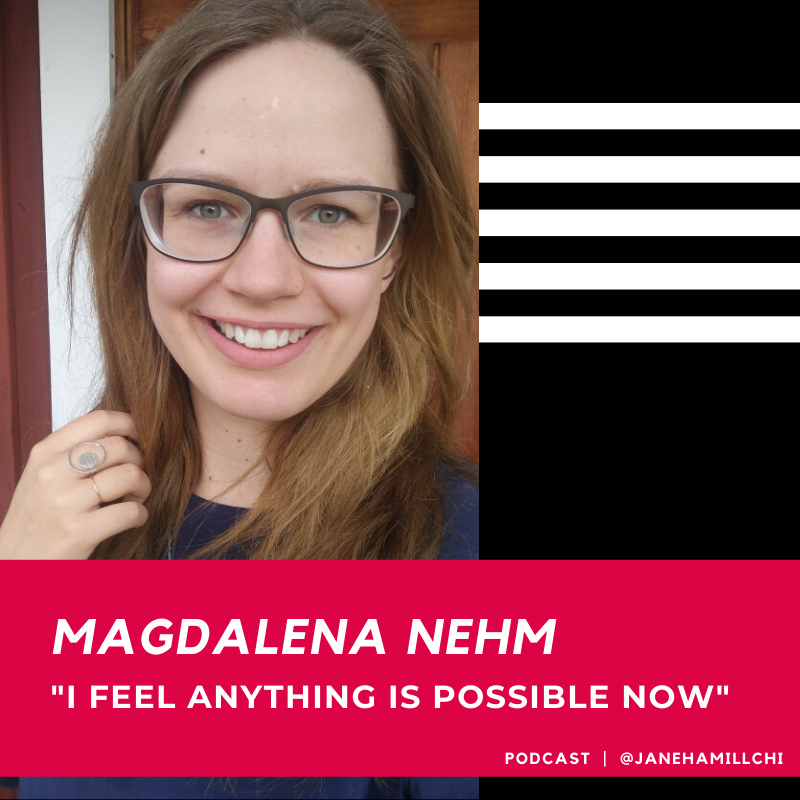 "Recently, I got this feeling that I can build this business how big I want it and to be whatever I want it to be. This is a new feeling."
– Magdalena Nehm, owner of MNOP Jewelry
WOW! Isn't this how we all want to feel about our business? Magdalena Nehm is my special guest today and she is such a cool woman.
Magdalena owns MNOP, a sustainable jewelry line from Sweden featuring gold, silver, wedding bands and recycled gemstones. She is a member of my Imperfect Action membership and she's already having an unbelievable year and it's only just beginning!
When I first met Magdalena, she was getting about one order per month from her website.
She had a great product and knew she wanted to build a bigger audience, but she wasn't sure what to do to make it happen.
She didn't know what specific marketing activities would actually work to grow her business so she wasn't doing anything. She was designing and making the jewelry but didn't have enough orders coming in to make it a "real" business. A LOT has changed for her!
Magdalena has been a member of Imperfect Action since the beginning. But now…
She TRIPLED her January sales compared to last year
Has a strategy for Instagram and social media that's actually so-able and gets sales
Emails her list every week
She usually only works 20 hours a week
Outsources what she can't do in those 20 hours
Completely changed her mindset and did the work
She also tells us what you can do to up your sales from one sale a month to having your best month ever.
Listen to Magdalena's story now.
The podcast is now on Spotify! You can also listen on iTunes and Stitcher Radio
Mentioned in this episode:
What about YOU? What's your plan to grow your business this year?
If you want to get a realistic roadmap to grow your online sales, the clarity of a plan, and the confidence to do the work that matters, join us!
"Coaching with Jane…It's the best money I ever spent for my business." -Magdalena Nehm
Imperfect Action Monthly Coaching. Check out the coaching program now and get on the wait list:
https://janehamill.com/membership
Have a great day !
Jane