Before you dive into this episode…
Have you signed up for our free LIVE webinar series for creative business owners??
You'll learn how to create a ONE PAGE marketing plan for your business, how to turn email subscribers into paying customers, and how to stop wasting so much time on Instagram.

---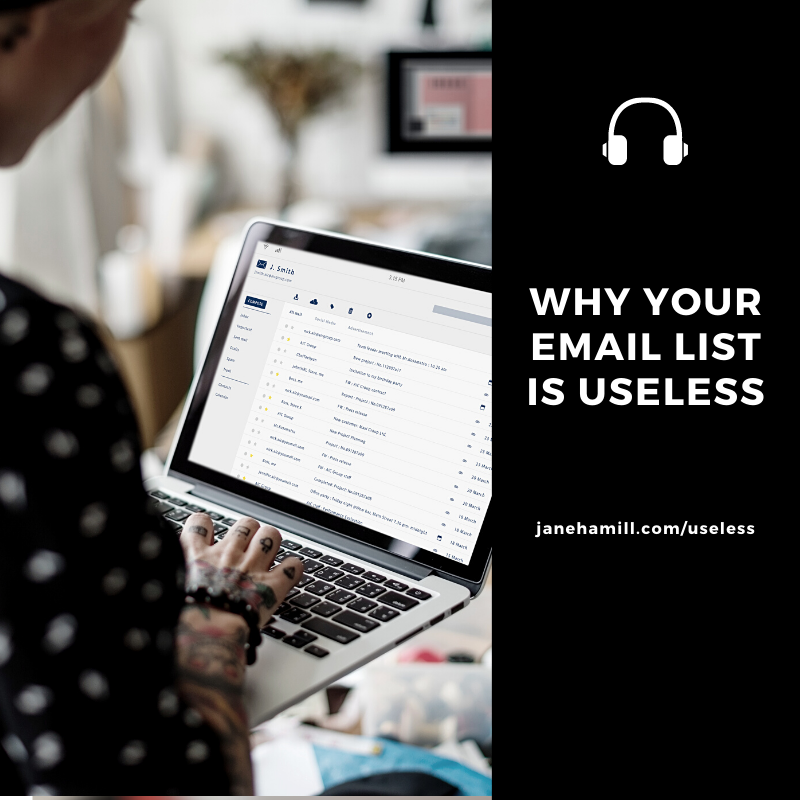 If you have an email or SMS/text list and you're not using it "right", it's useless.
We don't get conversions from our email marketing for a multitude of reasons – most of them totally in our control – that making having a list at all totally useless.
So many entrepreneurs work hard to build a list and then we falter…
we don't talk to the people on our list or keep in touch
we worry about the perfect images to include
we don't know what to say
we're worried we'll run out of topics
we get anxious about saying the wrong thing and offending people
we worry about email unsubscribes and we track them closely just to make ourselves feel bad 😉
we have those fraud-y feelings (how can I send out tips about getting organized when my desk is a hot mess?)
Email is the #1 ROI of any marketing activity. It converts better than anything else and most studies show…
…for every $1 spent on email, you get between $37 – $44 back.
Whaaaaaa????
So why aren't you crushing the email game?
In this episode I share 7 things you MUST know about sending emails to your audience.
My hope is that you will BELIEVE ME when I say these are important. They'll help you run your bitter better, more easily, and more profitably.
Have a listen…

You can also listen on iTunes. Spotify, and Stitcher Radio
7 things to know about email marketing for creative entrepreneurs:
Speak to only ONE person
Start using the word CLIENT instead of customer in your brain, with your team, feel the energy shift
Never ever EVER say email blast – no one wants to get blasted, these are real people
Give them ONE offer at a time – one thing to buy, not a bunch of options that makes them think too hard
Set up the MOST important automated emails. Your welcome email (or sequence) and abandoned cart email – I'll give you the email scripts to use in the free training: https://janehamill.com/series/
Create and use a content calendar so you know WHAT you're going to promote and WHEN so you have clarity, a PLAN (which lowers your stress level) and there's a balance of value vs. pitch (or offers)
A Golden Rule of marketing — there's a time to inform and there's a time to sell. When you sell, you need to SELL. Not dance around it.
Most of you think you're actually selling by posting up images of your products. But there's often no clear CTA (call to action).
That's PASSIVE MARKETING.
It's like the "husband in the corner at a party" (listen to the episode to get the reference  – it's helpful).
Like saying, I'm over here in the corner chatting so just come interrupt me if you need anything to drink.
Does not work.
Through all of this – I encourage you embrace the idea of IMPERFECT ACTION.
"Perfect is good but DONE is better." – Jane Hamill
I hope you'll join me for the FREE Webinar Series starting next week!
As always, I'm rooting for you and your business.
Jane
P.S. LMK if you got a small (or supersized) AHA moment from this episode, will you? Leave a comment below – I LOVE HEARING FROM YOU! Stop lurking and get in the game folks — answer me back! 🙂